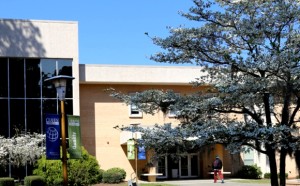 Craven Community College has announced the students who have been named to the Dean's List for the fall 2015 semester. Students earn this academic distinction by completing a college-level course load of at least 12 hours while maintaining a grade point average of 3.5 or better out of a possible 4.0.
Craven Community College Fall 2015 Dean's List
Alliance: Josh A. Maguire
Arapahoe: Mikayla F. Wayne
Atlantic: Patrick J. Behan
Aurora: Tomiko N. Green, Tamakia L. Moore
Bayboro: Samuel Becker, Krista L. Ireland, Faith L. Rice
Beaufort: Amelia L. Dixon, Tyler C. Mason, Samantha N. Meyer, Jack S. Russell, Christina L. Williams
Cape Carteret: Laura B. Hutchins
Charlotte: Andrew S. Fowler
Cherry Point: Sonia I. Loyola
Cove City: Brittany B. Barwick, Katarri S. Brockington, Joshua P. Calmes, Cathy B. Humphrey, Jonathan I. Jones, Amanda C. McCoy, Jonathan P. Weldin
Dover: Frank Ashworth, Brandon Johnson, Melissa A. Tess, Emily A. Wilson
Durham: Holly B. Lane
Emerald Isle: Angela C. Bastin
Ernul: Jesse J. Stramel, Cody J. Sutton, Taylor Whitford
Greenville: Krystina Moore
Grantsboro: Trevor E. Carrawan, Heather N. Harris, Kara L. Peed
Grifton: Breia R. Hardy
Grimesland: Zachary E. Moody
Hampstead: Robert H. Richards, Jr.
Havelock: Johnny A. Alvarado-Guerrero, Khalil S. Anderson, Madison M. Anderson, Caitlin M. Annunziata, Johnell Babino, Jr., Samantha L. Barrows, Charles D. Begley, Mattie Bourgeois, Lauren E. Brumwell, Shania N. Butcher, Alexandria D. Chancery, Kristen M. Childress, Naomi P. Clark, Alicia D. Clark-Cornwell, Galia N. Cook, Marlena Cook, Christina K. Courounis, Ryan D. Damaska, Raymond D. Davis, Micheal S. Dearing, Justin D. Debraska, Joey C. Deschuytner, Jason W. Dumaliang, Matthew B. Ellington, Emily L. Fulwood, Joseph J. Gamlin, Steffanie Garrison, Elizabeth R. Garrity-Yohe, Sherly Geisler, Ryan C. Gentry, Michael S. Grohmann, Michael C. Grudziecki, Elizabeth N. Gullett, Randi L. Hagan, Kayla P. Hall, Shanera T. Harper, Zoey L. Harvey, Tiffany M. Harwood, Alyssa Herold, Buck Hoover, Brooke L. Jansen, Richelle K. Jara, Stephanie N. John, Kayla A. Judd, Daniel Kiewel, Samara N. King, Brian T. Knowles, Rebecca L. Kwiek, Morey M. Lamonda, Courtney E. Lance, Thomas C. Lewis, Derrick Linzy, Kayla A. Longway, Jason Maldonado, Ratana Mao, Marcus A. McCabe, Jacob A. McClenney, Michael K. McGough, Jr., Patricia M. McKelvey, William O. McLaughlin, Steven P. McMahon, Michael G. Miller, Brandy Mills, Jonathan E. Miner, Emily L. Morris, De'ja A. Morris, Bethani J. Murray, Derek Nelson, Gabriel S. Newton, Alexandria Nibert, Kiley R. Nielsen, Amber M. Nugent, Hunter Owens, Marissa A. Pena, Natacia S. Perryman, Tyler S. Platter, Dallas C. Poole, Jr., Danielle M. Rendon, Yeimy L. Reyes, Carlie Reynard, Louis M. Rivera, Lindsey Rodriguez, William T. Ryan, Martha M. Samuel, Alexis M. Sciarrotta, Blaire D. Shrock, Alicia S. Skinner, Alexis Smith, Shanea L. Smith, Jennifer M. Snow, Austin K. Spillman, Bethany A. Strange, Jason R. Tschanz, Jada D. Walker, William J. Ward, Christopher M. Waterhouse, Nathan L. Whitmore, Johnathon M. Winter, Kelsey J. Wyrick, Brittney Zabriskie, Elizabeth F. Zocher
High Point: Joanna L. Huneycutt
Hubert: Joshua A. Crouse, Hunter A. Owens
Inver Grove Heights: Megan M. Cox
Jacksonville: Cheyenne M. Butler, Vironica M. Hornyak, Lawrence F. Reeve, Jr., David N. Rhodes, Brian K. Soliz, Samuel Webb, Sharee R. Willis
Kankakee: Emily Piech
Maysville: Melissa A. Jones, Jody Reep
Morehead City: Brandi J. Abdelsalam, Todd J. Derise, Michael Kirwan, Christopher G. Vaughan
New Bern: Olivia N. Akers, Micahla F. Akers, Dakotah Allen, Thomas C. Anderson, Derek D. Anderson, Valdor M. Arnold, Eleni K. Arritola, Andrea Babic, Lacey M. Banicki, Wayne A. Barnett, Angelica O. Barrett, Jarrett W. Barton, Alyssa B. Batts, San L. Bawi, Tiffany R. Bazemore, Janie E. Beck, Jessica C. Becker, Shaina B. Bell, David E. Bell, Amanda A. Berry, Angela N. Best, Grace D. Bjork, Jacqueline B. Black, Nicholas Black, Sydney K. Blair, Matt R. Blockholm, Yocasta Blockholm, Sierra R. Bondurant, Matthew Bowman, Christopher W. Boyd, Jessica Branham, John R. Brannon, Dustan R. Brown, Caleb M. Brumbaugh, Maxine S. Bryant, Bu Bu, David A. Bucksot, Andrew Burke, Hannah Burton, Kashika D. Butler, Scott G. Cabrera, Brandon C. Canfield, Heather D. Carlsen, Enid A. Chapin, Ronald E. Cherry, Nicholas S. Clevenger, Natalie L. Coffman, Deborah M. Compton, Hannah G. Cooley, Karla E. Coury, Cory L. Cutrell, Candace Davis, Ms. Mariah Davis, Justice R. De Andrade, Justin L. Denton, Victoria Dixon, Jessica E. Edwards, Austin O. Eheart, Elizabeth A. Esturban, Nicole A. Eyre, Jamie N. Finch, Andrew R. Fincham, Donald A. Fischer, Laqueshia K. Fisher, Benjamin J. Fisher, Karen S. Fisher, Ty W. Fortescue, Stephen A. Frazier, Molly J. Gastineau, Jeffery N. Geibel, Sydney T. Giammona, Jessica C. Gibson, Thomas A. Gibson, Micaela C. Glover, William M. Graves, Karen R. Green, Rebecca B. Gregory, Kelsey A. Grummert, Karen W. Guice, Joseph W. Guice,
Dominique M. Gupton, Michael T. Gushiken, Robin S. Guthrie, Christopher Guthrie, Olivia D. Hacker, Emily F. Hale, Alexander W. Hall, Rachel C. Hall, Jerry D. Harris, Tyler C. Harvill, Brittany M. Heaton, Joseph A. Heckman, Katherine E. Hille, William B. Hilligus, Lexington L. Hoffman, Laura A. Hudson, Heather M. Hutchens, Alexander M. Jestness, Sarah F. Jones, Alexandria H. Junak, Gary J. Kellum, Courtney P. Kendall, Robert C. Knox, Jr., Cameron E. Kolb, Sonia P. Koonce, Albina Kornegay, Cassie M. Kornegay, Roxanne R. Kramer, Donald R. Kramer, Savannah N. Kuhn, Kham G. Lam, Elizabeth A. Lamm, Elizabeth M. Laroche, Nathaniel J. Lebo, Eda Y. Lopez, Jeffrey C. Mabe, Samantha L. Manning, Mark Marsteller, Connor A. Mason, Jennie M. McAllister, Cassi McDonald, Anna J. McKee, Shawn McKenney,
William D. Mike, IV, Shawna H. Milam, David Miller, Nicholas E. Mitchell, Katie R. Mock, Brian C. Momsen, Jenna M. Monette, Benjamin D. Morrow, Henry Moses, Rachael M. Moyers, Joseph A. Nasser, William E. Neville, Kelly O'Donnell, Claire C. Oliver, Victor PO, David A. Pacheco, Myra Parker, Royston Partlowe, Hannah J. Peck, Rachel M. Peoples, Jenny E. Phillips, Devonta C. Pickett, Christopher T. Pons, Billicia J. Pressley, Caleb E. Puchalski, Jesse E. Ray, Rebecca B. Register, Madeline G. Riley, Shedette D. Roberson, Darby Roberts, Lisa C. Robinett, Jennifer Rodriguez, Kristen M. Rozier, Amy E. Sadler, Neldra A. Satterthwaite, Ryan A. Schmidt, Mitchell D. Schweizer, Joleine C. Scott, Jacarra M. Scott, Jennifer Seif, Eric S. Sexton, Matthew J. Shaw, Ra Ma Si, Abigail N. Snook, Christina N. Sobrido, Emma K. Sonnenberg, Brittany Sovinsky, Rashida J. Sparks, Melissa D. Spivey, Michela T. Stalnaker, Katherine A. Stephens, Michaela J. Sterling, Donny Stewart, Francis B. Stith, Kelly D. Stone, Horace L. Taylor, Cody J. Thege, K'tia N. Thompson, Lia Thurber, Daniel Trombley, Felicia Turk, Stacey L. Turner, Lisa Marie A. Van Apeldoorn, Jared S. Vance, Wesley T. Vosper, Kristen N. Whitby, Bari E. Wiley, Kyle P. Williams, Kristen L. Williams, Haylee N. Willis, Jakay D. Wilson, Krystle Wolfe, Jo-Waynia Woolard
Newport: Robert Caldwell, Eric M. Doucette, Jeffrey R. Ebron, Christina A. Fitzgerald, Alicia J. Keppley, Megan L. Lloyd, Michael T. Lowery, Douglas E. Marvel, Pamela C. Millette, Aaron M. Stranathan, Tiffany R. Trott-Mckenna, Brandon E. Vainio, Joseph E. Vanetten, Janna R. Weeks, Cameron W. Willis
Oriental: Stephen C. Deaton, Eifel M. Kreutz
Pollocksville: Jennifer M. Decamp, Samantha M. Ellwood, Arodi Grullon Fernandez, David R. Holton, Nathanael Jackson, Joshua L. Jensen, Joshua R. Macer, Rebecca L. McGarvey, Xavier Wiggins, Tammy M. Willis, Jennifer R. Zavalney
Richlands: Chandra E. Britt, Harold R. Caldwell, II, Cassandra Guzowski
Sanford: Charnelle I. Jenkins
Seven Springs: Claudia A. Davila
Swansboro: Dulce Beam, Neta D. Kittrell, Christopher Losack, Andrew P. Wilwerding
Trent Woods: Victoria L. Bannister, Jessica L. Kachur
Trenton: Jessica L. Purifoy
Vanceboro: Jessica L. Aneuber, Antoine Barfield, Rebecca L. Berg, Fentress P. Brinn, Olivia M. Bryant, Dustin G. Cayton, Shelton E. Davis, Earlie E. Elks, III, Joseph F. Jackson, Johanna J. Johnson, Tyler Lewis, Sarah A. Lilly, Melissa E. Mercer, Lauren Moore, Kayla E. Morris, Logan W. Palmer, Ashley N. Rouse, Mable W. Yaeger, Paul S. Yaeger
Submitted by: Deborah Kania, Director of Marketing, Communications, and Development Liaison, Craven Community College