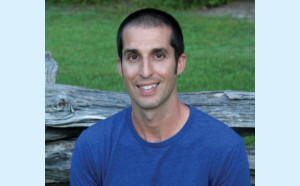 We enjoyed our interview with Joey Jones, Local Author of "A Bridge Apart". It's being aired on New Bern's News Talk Radio WNOS 107.5 and 1450AM. Listen to Laura Johnson's interview with Joey here:

A Bridge Apart Synopsis: "A Bridge Apart is a remarkable love story that tests the limits of trust and forgiveness… In the quaint river town of New Bern, North Carolina, at 28 years of age the pieces of Andrew Callaway's life are all falling into place. His real estate firm is flourishing and he's engaged to be married in less than two weeks to a beautiful banker named Meredith Hastings. But when Meredith heads to Tampa, Florida – the wedding location – with her mother, fate, or maybe some human intervention, has it that Andrew happens upon Cooper McKay, the only other woman he's ever loved. A string of shocking emails lead Andrew to question whether he can trust his fiancé, and in the midst of trying to unravel the mystery he finds himself spending time with Cooper. When Meredith catches wind of what's going on back at home, she's forced to consider calling off the wedding, which ultimately draws Andrew closer to Cooper. Andrew soon discovers he's making choices he might not be able, or even want, to untangle. As the story unfolds, the decisions that are made will drastically change the lives of everyone involved, and bind them closer together than they could have ever imagined." – Joey Jones
Locally, autographed copies of A Bridge Apart are available at Hallmark in the New Bern Mall and at The Next Chapter Book Store and Art, 320 S. Front St. The novel is also available through Amazon – the link can be found online at Joey-Jones.com, in Print or Kindle e-Book.
Follow Joey on Facebook, Twitter, and Instagram.
Tell us what you think by commenting below or sending us an email. Visit New Bern Now's Facebook page or sign up for daily updates by submitting your email address in the right margin on New Bern Now's website.
Wendy Card