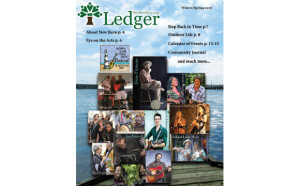 If you haven't seen New Bern Now's Ledger Magazine, it's available online, you can download your copy here, and you can get the print edition at the following locations:
The Birthplace of Pepsi
B & J Seafood
Bridgepointe Hotel and Marina
Carolina Creations
Carolina Colours
Coastal Carolina Regional Airport
Coldwell Banker
Courtyard by Marriott
Craven Animal Hospital
Double Tree by Hilton New Bern
Fine Art at Baxters
Flythe's Bike Shop
The Four C's
The Hair Depot
Hampton Inn
Hanna House
The Isaac Taylor House
Lynaire Kennels and Crematory
McCarthy Square Pharmacy
MJ's Raw Bar and Grill
Meadows Inn
Mitchell Hardware
New Bern Historical Society
Paula's Pizza and Italian Restaurant
Springhill Suites
Trent River Coffee Company
Tryon Palace Waystation
Twice as Nice Upscale Consignment Boutique
The UPS Store of New Bern
They will also be available at numerous other locations throughout the greater New Bern area and beyond this week.
If you'd like to be a distribution point, please contact us via email or give us a call at 252-638-6858 and we will add you to our list.
The Ledger is a "mini-version" of New Bern Now's "Community" website. We welcome your community announcements and/or any information that may benefit readers on a daily basis and the information is compiled quarterly for the Ledger.
Special Thanks to Griffin & Tilghman Printers, Inc. for their terrific and speedy services!
I would also like to thank everyone in our community for sending us information; our sponsors and advertisers for supporting our efforts; Lisa Bisbee-Lentz for volunteering to design the cover and Laura Johnson for volunteering to deliver the Ledger.
Please feel free to make any comments or suggestions below or send me an email on how I can improve the quarterly publication and website. Visit New Bern Now's Facebook page to find out about the latest happenings!
Wendy Card