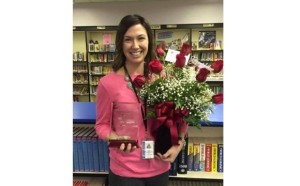 On January 6, 2016, Craven County Board of Education and Vanceboro Farm Life Elementary spotlighted a veteran of Vanceboro Farm Life, Ms. Grey Tipton.  She has been a role model for the many other teachers she has worked alongside.  She has a fire and passion to mold young students into more mature learners, and seeks every opportunity to grow them academically, socially, and emotionally. She constantly takes on difficult tasks and seeks solutions that create win-win situations. She has tremendous presence and a box full of tools to engage students.
She has served in many capacities such as school improvement team member and grade level chair. She currently serves as a mentor to many young teachers, a listening ear to others, friend, wife, mother, daughter and most importantly model teacher to all at Vanceboro Farm Life staff.
It is a pleasure to announce the 2015-2016 Craven County Spotlight Teacher for Vanceboro Farm Life as Ms. Grey Tipton.
Submitted by: Jennifer Wagner, Craven County Schools