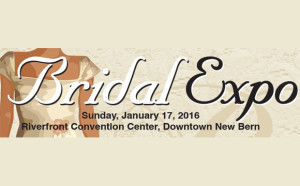 Venue Tours 9 am to 1 pm
Make the most of the Expo by being a stop on the venue tours. Brides will have the opportunity to pre-schedule tours of event facilities in Downtown New Bern and outlying areas before the Expo. Included in their package will be transportation, tours of participating venues, a goody bag complete with venue program and admission to the Expo. Participating venues will have the opportunity to meet with the brides while showcasing their venue during the designated time. Venues may secure additional vendors to have on site during their tour, such as florists, caterers, D.J.'s etc., for an additional fee. All businesses participating in the venue tours will have access to the database of the registered brides.
Bridal Expo 1 pm to 5 pm
Showcase your products and services in the elegant ballroom of the New Bern Riverfront Convention Center. Each vendor will have the opportunity to transform their reserved space into an inviting atmosphere in which to welcome the brides.
Prize Drawings
Donate a prize valued at $50 or more and receive the database of the brides attending the Expo.
Promotion
A multi-media approach is used to market the Bridal Expo each year in an effort to maximize attendance from the
region and across the state.
– a heavy campaign in ENC's publications; New Bern Sun Journal, Kinston Free Press, Jacksonville Daily News,
Havelock News, Cherry Point Post, Topsail Advertiser and The Shopper
– banner advertising on ENC's websites; NewBernSJ.com, Kinston.com, JDNews.com, Havenews.com,
topsailadvertiser.com
– a targeted Pay-Per-Click campaign on Facebook
– aggressive radio campaign across numerous channels
– local, regional and statewide press releases to online and print publications
Deadline – January 4, 2016: Reserve Your Space Today by calling 252-635-5622.
Submitted by: Pam DuVal, President/Owner, Promised Hearts Inc.