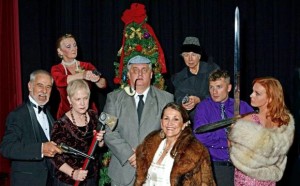 We enjoyed our interview with Harry Harvey, the Director of The Game's Afoot. It's being aired on New Bern's News Talk Radio WNOS 107.5 and 1450AM. Listen to Laura Johnson's interview with Harry here:

When asked about The Game's Afoot, Harry Harvey said, "It is a very funny play, a mystery farce by the author Ken Ludwig. It's called The Game's Afoot. The reason for that is if you remember, a Game's Afoot was a saying by Sherlock Holmes. The play is a send off of Sherlock Homes, but it's based on a true character. In the 1930s there was a famous Broadway star called William Gillette and he was admired the World over for his leading roles in the play 'Sherlock Holmes'."
"He made an absolute fortune out of it and built a castle in Connecticut and every year around about Christmas time he would invite his fellow guest players in the play to spend Christmas at his castle. What happens in this particular play that had been staged in Broadway in 1936 during which at one of the performances, he gets shot and he invites them members of each cast back to his mansion to spend Christmas, but also to try and find out who it was who shot him. It's a hilarious farce and whodunit!"
Find out the rest of the story by getting your tickets today!
Show dates and times are December 4, 5, 11, 12 at 8pm and December 6, 13 @ 3pm at the Masonic Theatre, 514 Hancock St.
Tickets are now available at our outlets for:
$13.00 in advance
$16.00 at door
$10.00 for students
Buy Tickets online at: ShowTix4u.com. You can also purchase them through The Bank of the Arts, 317 Middle St., 252-638-2577 and SnapDragon, WayCoolToys, 214 Middle St., 252-514-6770
For more information, check out Rivertowne Players Facebook page!
Details and image provided by: Kathy Morrison
Tell us what you think by commenting below or sending us an email. Visit New Bern Now's Facebook page or sign up for the latest updates by submitting your email address in the right margin on New Bern Now's website.
Wendy Card