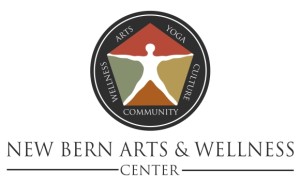 The New Bern Arts & Wellness Center is hosting an Open House including art demonstrations, art activities for kids, pottery sale, and introductions to Yoga on Saturday November 21st, from 9am to 1pm at the new facility located in Five Points at 919 Broad Street in New Bern.
Hand-made pottery will be available for sale and artists will be on-hand to answer questions about the Center's current operations and the vision for its future.  Art demonstrations will include wheel throwing and sculpting with clay and watercolor painting. Kids will be encouraged to try out art activities.
Information about the upcoming after-school arts program as well as schedules for adult art and wellness classes will be available at the open house.
The New Bern Arts & Wellness Center is dedicated to creating a safe and positive space in Five Points where artistic, cultural, and wellness activities will enrich individual lives and strengthen community bonds.
Visit the New Bern Arts & Wellness Center at 919 Broad St. or call 252-497-8928 for more information.
Submitted by: Alex and Robin Frelier, New Bern Arts & Wellness Center
252-497-8928