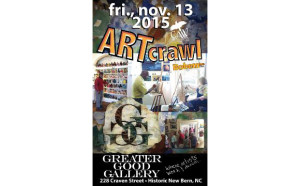 Community Artist Will is pleased to announce the following artists and supporters of New Bern's vibrant art scene will be participating in this November's ArtCrawl, Friday the 13th, 5 – 8pm.
The evening will be very active starting at CAW's own Center for the Arts at 415 Broad Street, featuring our co-op gallery with the paintings, sculptures, jewelry and photography of many local talents. Inside you will find the works of Sara Arje, Alan Welch, Blaine Kruger and many more. Dee Mayer, Nada Behr, Sandy Bruno, Eileen Wroe and Chris Wagner each have studios inside the Arts Center as well. As you walk out the back door, you will find yourself making your way into Artisan Square, which is going to be the place to be if you appreciate the arts in New Bern.
Michaele Rose Watson Artist Studio will be hosting Dan Jam Phillips & his musical friends located in Artisan Square.  Weather permitting, Michaelé will also be holding a kiln firing that evening.  Are you a clay person with a bisque item?  Bring it to Michaele's studio anytime from today up until Friday's ArtCrawl by 3:00pm and she will include it in the evening festivities.  Candling the kiln will happen at dusk.  The fire will be warm and inviting, as you listen to the sweet sounds of Dan Jam Phillips and his musical friends at Michaele Rose's Little Yellow Studio.
Also in Artisan Square will be Lynne Baron Goodwin, Erik Castillo and Taylor Shoor with their fine art photography displays.
Heather Brewer will be brining her literary talents to the Square with copies of her book, Hungry Mother Creek. (Published under her maiden name of Heather Cobham.)
Adjacent to Artisan Square is Andrea Owens' Red Shoe Gallery. She will be hosting an exciting show titled "Smalls"; no piece in this exhibit is more than 5 x 5 inches! Small art can make for a big gift! Sandy Bruno will be one of the artists participating. On Middle Street, Trent River Realty will be hosting painters Susan Sirkin and Brenda Gear as well as photographer Scott Sirkin.
Down the street in Stardust Gallery, Dara Morgan will be hosting a show featuring many local artists, "Connotations". Stop in to see Randy Moore playing Blues and Americana in The Black Cat Shoppe, and make your way to the Greater Good Gallery featuring the work of Lisa Bisbee Lentz, Carol Jones, Lee Hood and Jon Derby.
Any questions about the ArtCRAWL can be answered by calling 252-649-1712 or emailing us.
All of downtown will be enjoying beautiful weather on Friday; why not accent it with some beautiful art as well!
Submitted by: Community Artist Will