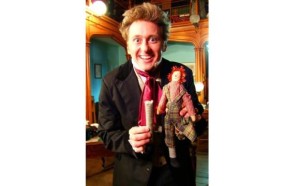 Charles Dickens, as portrayed by actor David zum Brunnen, returns to the New Bern-Craven County Public Library on Sunday, December 6th in the one man play "The Night Before Christmas Carol" with performances at 2:30 and 5 pm.
The Friends of the New Bern-Craven County Public Library and the Colonial Capital Chapter of the English Speaking Union cosponsor this annual event.  A second performance was added this year in response to the success of the program last year.
The audience is able to join Charles Dickens in his study as he creates his Christmas classic bringing History, humor and the holiday to life.  Cedric Charles Dickens, great grandson of the famous author, has said that "David absolutely becomes my great grandfather on stage".
The play was written by noted Dickens scholar, Elliot Engel and has been seen on PBS television.
Admission is free but tickets are required.  They are available at the New Bern-Craven County Public Library, 400 Johnson St.  Contact the library at 638-7800 for more information.
Submitted by: Audrey Williams, New Bern Friends of the Library