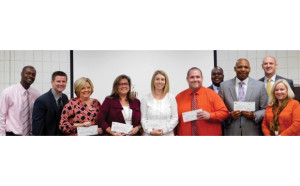 Partners In Education was honored to be selected as a grant recipient for $30,000 to be used for The Bate Foundation Individual School Grant Program for the 2015-16 school year.
Craven County Schools principals were encouraged to apply for this grant in the following subject areas:  Arts, Music, Health and Fitness, and Athletics.
The winners of this grant are: A.H. Bangert Elementary:  School Art Display, $4,700.00 – Michelle Lee and Marissa Leary;  Arthur W. Edwards Elementary: Playing for Primary Students, $5,000.00 – Kathy Leffler and Jennifer Blair; Ben D. Quinn Elementary: Buddy Benches, $2,640.20 – Curtis Gatlin and Roxanne Ank;  James W. Smith Elementary: Small Voices, We Want to be Seen and Heard,$5,000.00 – Renee Whitford and Marisa Swick; New Bern High:  Sound Sound Sounds Good,  $5,000.00 – Jerry Simmons and Willie Sumner; Vanceboro Farm Life Elementary: Vanceboro Farm Life Music Program, $4,995.00 – J.T. Tribula and Meghan Beshara; and West Craven Middle:  Athletic Equipment, $4,986.00 – Ashley Faulkenberry and Denise Wells.
Submitted by: Darlene J. Brown, Executive Director, Craven County Partners In Education