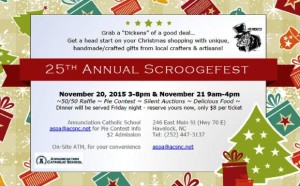 Get a head start on your Christmas shopping with unique gifts from local crafters and artisans!
The 25th Annual Scroogefest at Annunciation Catholic School in Havelock, NC, will be Friday, November 20 from 3 – 8pm and Saturday, November 21 from 9am – 4pm.
There will be a 50/50 Raffle, a Pie Contest, and several Silent Auctions on great items and services, for only $2 admission.
Dinner is served on Friday night, so reserve yours now at $8 per plate.
For more info, please contact ACS at 252-447-3137 or via email, and check out our website at AnnunciationCatholicNC.org.
Vendor applications are still be accepted, so get your space now!
Submitted by: Heather Gugliotta