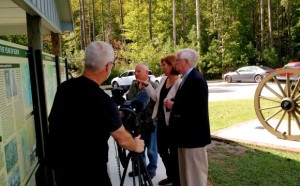 First Airing October 15 & 16
New Bern Historical Society recently completed its new History Walk and Gateway Plaza at New Bern Battlefield Park. Although the planned celebration was delayed by rains from Joaquin until the end of October, UNC-TV came to the site in advance of the celebration. Independent Producer Rick Sullivan visited the Park to film Battlefield Guides, former Adjutant and Guide, Steve Shaffer, New Bern Historical Society President, Nelson McDaniel, and Executive Director Lynne Harakal. He recorded interviews and images of the park and its upgrades.  Among those images is a 25 foot wide etched concrete map of the battlefield at the Gateway Plaza, and panels that give information on the battle, what the battle meant to New Bern, and how it influenced our history.
Sullivan's story will have a quick turnaround as it will be seen on UNC-TV next Thursday and Friday, October 15 and 16 on NC Weekend. Executive Director Lynne Harakal is grateful that the program came to the Battlefield. "NC Weekend is a wonderful vehicle for communicating to people around the state about the battlefield as part of a destination visit to Eastern North Carolina."
The History Walk Celebration that was originally scheduled for October 3rd has been re-scheduled for October 31st from 1-3pm. The public is invited to join local dignitaries and re-enactors at the Battlefield. The celebration will include music from Simon Spalding and the Craven Brass Quintet. Speakers will include Dr. Reginald Hildebrand of UNC Chapel Hill. The event is free. To help celebrate the opening of the History Walk, the New Bern Academy, currently featuring a Civil War exhibit will be open free to the public. Also the Crockett Miller Slave Quarters in James City will be open with free tours from10 am to 5 pm.
New Bern Battlefield Park is located at 300 Battlefield Trail, just off Hwy 70 at the entrance to the Taberna sub-division. For more information, call 252-638-8558 or www.NewBernHistorical.org.
Submitted by: Kathy Morrison, New Bern Historical Society