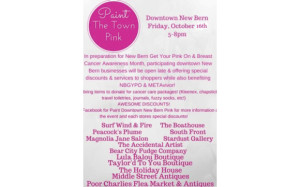 Downtown New Bern businesses will be open late & offering special discounts and services to shoppers while also benefiting a great cause!
It all takes place on Friday, October ​16th, from 5pm – 8pm, where each business involved with this event will be collecting items for cancer care packages (this includes items like travel size hand sanitizer, lotion, chap stick, comfortable socks, journals, cross word puzzles, hard candies, kleenex, etc.) and will also be offering a special discount/ service with a percentage being donated to NBGYPO & METAvivor!
If you are not familiar with New Bern Get Your Pink On, please visit NewBernGetYourPinkOn.com to learn more about how this wonderful organization helps local cancer support.
Join us on Thursday, October 15th at The Isaac Taylor Garden for the 3rd Annual New Bern Get Your Pink On event!
Friday, October 16th, 5pm – 8pm, check out the following businesses as they Paint The Town Pink!
Check in before the event to see added businesses!
– The Accidental Artist will offer FREE studio fees from 6-9pm and will also be doing a raffle!
– Middle Street Antiques will offer a 15% discount!
– Carolina Creations
– Magnolia Jane Salon- Blowout & Braid Bar: receive a blowout for $15 or a braid for $10 with all proceeds going to NBGYPO!!
– Lula Balou…a unique boutique – 10% discount that will be donated to NBGYPO!
– Poor Charlie's Flea Market & Antiques will be collecting donations.
– Stardust Gallery
– Taylor'd To You Boutique – 10% discount that will be donated to NBGYPO!
– The Boat House
– Peacock's Plume & South Front – 20% discount as well as a live window display that evening!
Are you a downtown business that would like to be involved? Contact Magnolia Jane Salon, 236-D Middle St., 252-514-4867 or e-mail.
Submitted by: Laura McGovern, Magnolia Jane Salon