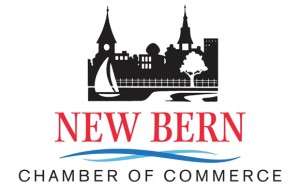 New Bern Area Chamber of Commerce will be conducting a special Member Information Center (MIC) training session on Wednesday, October 28th at 8am to help members learn how to post "hot deals" and "member-to-member incentives" on the Chamber's web site in an effort to support a community-wide Buy Local Day.
Buy Local Day is Saturday, November 28th.  First South Bank approached the Chamber to assist them in raising awareness of the effect that buying and shopping locally has on our community.  "There's no better way to promote your business than to incentivize the community or fellow Chamber members with a hot deal or member incentive and we couldn't think of better way to kick off the campaign than by helping our members encourage the community to shop and buy local at their local business!  The Chamber has undergone substantial changes that now provide members a wealth of benefits and tools that help them not only succeed, but thrive!," states Kevin Roberts, President, New Bern Area Chamber of Commerce
What do you need to do to participate?
Register your business for Buy Local Day at the Chamber or First South Bank.
Offer a discount or promotion to customers on Buy Local Day!
Chamber members may also register to attend a special October 28th Member Information Center training session that will teach members how to post either a hot deal or member incentive on the Chamber's website.
The Chamber of Commerce is very attentive to the attraction of new business and promotion of its members in the local area.  The New Bern Area Chamber of Commerce provides its members the best platform to successfully promote and engage with their customers and now with the new Member Information Center, members can post hot deals and member-to-member incentives absolutely free of charge in the interest of promoting their business.
To register, please email the Chamber at or call the office at 252-637-3111 or contact First South Bank at 252-636-2997.  Since 1899, the New Bern Area Chamber of Commerce has successfully been serving the business community for over 115 years!  Located in beautiful historic downtown New Bern at 316 S. Front Street, the New Bern Area Chamber of Commerce serves to positively cultivate economic stability for the local community by partnering with local businesses to promote and engage its members so they are positioned not only to succeed, but thrive. For information about the benefits of membership, please contact the Chamber at 252-637-3111.
Submitted by: Millissa True, SBS Forward, LLC