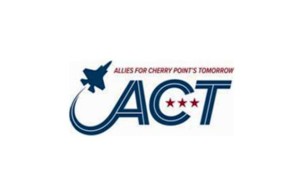 For Air Field Security improvements at MCAS Cherry Point
Allies for Cherry Point's Tomorrow (ACT) and the City of Havelock announced the inclusion of $23.3M for Air Field Security Improvements at Cherry Point Marine Corps Air Station in H.R. 114-270, the FY16 National Defense Authorization Act (NDAA) Conference Report under Title XXII Navy Military Construction provisions.
Air Field Security Improvements funding is essential for the Marine Corps to base active operational F-35B tactical aircraft at Cherry Point in the future.
This funding was included in the Senate version of the FY16 NDAA and was included in the final House/Senate conference committee report which reconciles differences between the two bills prior to being sent to the President for his signature.
"This is tremendous news as it signals yet another strong commitment by Congress to helping to ensure Cherry Point will remain as the premier base for F-35B 5th generation stealth Marine Corps aircraft on the east coast" said Marc Finlayson, ACT's Managing Consultant, "ACT took this message to our delegation in Congress in February of this critical security need and we are extremely grateful that our message was heard. Now we must continue work with our delegation and others to ensure that the necessary funds are appropriated as quickly as possible for this purpose."
Havelock Mayor Will Lewis stated, "This represents a significant step forward for Cherry Point and is further testament that a unified voice between the City, ACT and our regional partners can have a positive impact for our national security, the air station and our region." He continued:  "We commend Senators Tillis and Burr for joining together to insert this language in the Senate bill and, are extremely grateful for the truly bi-partisan efforts of Reps. Jones, Butterfield and Holding to prevail upon their colleagues on the House Armed Services Committee to ensure this critical funding remained in the final bill."
ACT President Greg Lewis indicated that senior staff for House Armed Services Committee Chairman Mac Thornberry (R-TX) released this information to ACT's lobbying team in Washington, D.C. yesterday.
H.R. 114-270 is scheduled for a vote and is expected to pass the full House later today.
For more information, about these and other issues essential to our area, visit www.alliesforcherrypoint.com.
Submitted by: Shannon LuQuire, Trade Ideas, Inc.