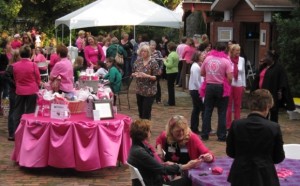 Plans are well underway for the 3rd Annual "New Bern Get Your Pink On" fundraising event to be held on Thursday, October 22 from 5:00 – 7:00pm at the Isaac Taylor Gardens located on Craven Street in Downtown New Bern.
This year's event will attract ladies and gentlemen of all ages! There will be raffles, food, activities, music, guest speakers, cancer fighters and survivors, and more!  Mary Gooze of "One Woman Many Lakes" and Vanessa Anderson, A CCHC New Bern Cancer Care patient will be guest speakers. Mary has been swimming across the country to raise awareness and research funds specifically for terminal (Stage IV) metastatic breast cancer. On Friday, October 23, she will swim from Bridgeton to New Bern on behalf of the other 155,000 women and men with metastatic Stage IV breast cancer. Vanessa will share her experience as a young mother fighting for her life as she travels on her journey to raise awareness.
"This has been such an exciting year so far as we continue to gain momentum and generate more awareness," said Thea Kincaid, founder of New Bern Get Your Pink On. She went on to say, "New Bern Get Your Pink On is a grassroots, community group whose mission is to not only support local patients affected by cancer, but to promote awareness and education to our community." Proceeds raised will provide care, comfort and research for local cancer patients and 100% of all donations benefit our community.
More information is available online at NewBernGetYourPinkOn.com.
Submitted by: Shannon LuQuire on behalf of the New Bern Get Your Pink on Committee