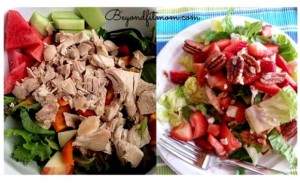 Plenty of fresh produce and yummy fruits and veggie lead to healthy salad recipes. But salads can often have more calories than you think!
Here's a quick roundup of 5 Healthy Salad Recipes that are far from boring!
1: Pasta-Free "Pasta" Salad
Ingredients:
– 1 (29 oz) can chopped tomatoes with basil and oregano
– 2 large cucumbers, quartered and sliced
– 3 green onions, chopped
– 1/3 cup mushrooms
– 1 cup crumbled feta cheese
– 1 cup halved cherry tomatoes
– ¼ cup sliced black olives
– ¼ cup diced red onion
– 1/3 cup olive oil
– 1/3 cup lemon juice
– ½ tsp oregano
– ½ tsp basil
– ½ tsp black pepper
– 1 clove garlic
Directions:
Mix oil, lemon juice, garlic, and spices together with wisp and set aside. Toss vegetables together in large bowl.  Stir in oil mixture thoroughly. Top with feta and chill for at least 1 hour to blend flavors prior to serving. Enjoy!
2: BeyondFit's Tasty Basil Chicken Salad
Ingredients:
– 1 Chicken Breast, cut into bite sized pieces
– 1 medium apple, cut into bite sized pieces
– ¼ of a small onion, cut into medium sized slices
– 2 Pan Turns of Olive Oil
– 1 teaspoon garlic powder & basil
– Salt & Pepper to taste
Directions:
In a medium saucepan, take two "turns" around the pan with your olive oil. Turn to medium heat and allow oil to mildly warm. Add in raw chicken, garlic, basil, salt & pepper and cook until done. Before the chicken begins to get golden brown, add in onions & apples and allow the mixture to cook until chicken is golden brown, onions are cooked to your liking, & apples are slightly soft. Remove from heat and let cool for a few minutes. Serve over a bed of spinach with a couple of cherry tomatoes & a touch of feta cheese on top.
3: Healthy Homemade Salad Dressing that goes perfect with a grilled chicken salad loaded with your favorite veggies!
Ingredients:
– ¼ cup olive oil
– ¼ cup low sodium chicken stock
– 3 TBSP lemon juice
– 2 TBSP fresh basil or 1 tsp if using dried basil
– 1 tsp dried oregano
– 2 tsp minced jalapeno peppers
– 1 tsp Dijon mustard
– ¼ tsp salt and pepper
Directions:
Mix all ingredients together and enjoy over your favorite salad. Store extra in an airtight container.
4: Rotisserie chicken! From BeyondFit Life member Shari!
Here's my mixing bowl salad-mixed greens, chicken and little bits of apple, tomato, carrot, sweet potato, bell pepper, watermelon, and honeydew.
5: Quick Strawberry Topped Salad! From BeyondFit Life member Katy!
Romaine lettuce, turkey lunch meat, strawberries, toasted pecans, a sprinkle of feta and dinner balsamic vinegar. Yum!
P.S. Need some more healthy salad recipes and ideas to spice up your salads?
Here are 5 GOOD ways to get creative with those greens!
P.P.S. Need some more healthy recipes?
We have tons of delicious, healthy and easy recipes at BeyondFit Life!
If you need ideas for healthy week night dinners, fat loss friendly snacks, quick and easy breakfasts, and more… you will love the recipe section of the portal!
And to make things even better: you can download all our member recipes INSTANTLY!
By Healthy Living Contributing Author, Kate Horney