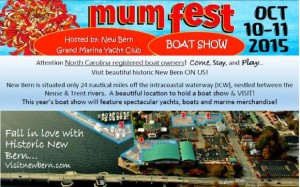 Hosting Regional Fall In-Water And Land Boat Show October 10th & 11th During Historic New Bern Mumfest
The New Bern Grand Marina Yacht Club will be hosting a much larger scale regional boat show during this year's Mumfest, which will be held October 10th and 11th.
"New Bern is situated only 24 nautical miles off the intracoastal waterway, nestled between the Neuse & Trent rivers, which is the perfect place to hold a boat show.  As marina operators, we talk with boating enthusiasts, boat brokers and dealers, and marine tradesman daily in the normal course of business.  They have communicated a need for a regional show during the fall season that will allow them to feature existing product (i.e. boats, products, or services) at a very reasonable price, plus showcase the new year models and product that show attendees want to see!  Our goal is to create a regional show that grows each year, that's affordable for exhibitors and will attract qualified attendees who are passionate about boating and yachting.  Some of the larger shows have either become too competitive or too pricey for exhibitors to participate.  We truly feel we can promote and position the show into something very successful for our exhibitors!  We have nearly sold out all spaces in City Lot Section #4 and we hope the overwhelming response continues." states Millissa True, Show Manager.
This year's show will offer over 100 land lot exhibit spaces on four separate city lots that surround the marina, in a downtown area separate from the general vendors and Mumfest participants.  The show will also offer a number of wet slips in order to showcase some of the larger boats that attendees will be able to view.  Space will be sold on a first come, first serve basis, so exhibitors are encouraged to submit their application as soon as possible.
In partnership with New Bern's Mumfest Committee, extensive marketing throughout the state will be on-going to promote the show.  Marketing will consist of print, TV, and social media integration.  The deadline to submit an application is September 15th.
To learn more about the show or to complete the exhibitor application, please go to the marina's web site at: NewBernGrandMarinaYachtClub.com.  Like the marina on Facebook at New Bern Grand Marina Yacht Club or follow the marina on Twitter & Instagram at NewBernMarina1.
The New Bern Grand Marina Yacht Club has been referred to as the "Jewel of historic New Bern" and has been pictured and featured in many local and state publications.  Walking distance and just minutes from New Bern's historic district, a host of quaint boutiques, fine and casual dining, along with several parks, walking trails, trolley rides and ghost tours… the marina claims title to simply one of the best marina locations in eastern North Carolina.  A limited number of slips are available for purchase and a unique slip rental program which make living the lifestyle you've dreamed of a possibility.  Member benefits include high speed internet, HD cable, valet baggage service, dine-in service, secure marina cam, pool and fitness center, yacht club facilities, hotel, dining and merchant loyalty discounts.  For more information, call The New Bern Grand Marina Yacht Club at (252) 633-6070.
Submitted by: Millissa True, New Bern Grand Marina Yacht Club