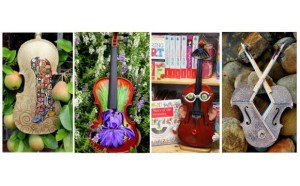 The New Bern String Fling will be here before we know it!
This is a terrific fundraising event! Proceeds from the New Bern String Fling Gala & Auction on September 26th will be used to support the annual North Carolina Symphony performances, children education programs and music education.
We enjoyed our interviews with three out of 15 Artists who dedicated their work to this special event. Stay tuned for more interviews. Find out what inspired them to create their designs and learn more about them by listening below:
Sandy Bruno's inspiration, "My "golden" violin was inspired by the work of Gustave Klimt. Klimt's painting "The Embrace" reflects his admiration for Ravenna mosaics, which have long been a fascination of mine.  My "Iris in the Garden" violin reflects my love of Monet's garden in Giverny. On one side, a lone iris stands out. On the other, the entire garden of musical color combines for a rhapsody of joy!"

Elizabeth Spencer's work: Her work deals with concepts orbiting around the human condition, emotional space, and the continuum between what is absolute and what is wished for. In her work, she is constantly reminded of the power of intuition and considers of her artwork intimate revelations that reflect and challenge cultural and personal belief systems. She combines wood, paint, nails, tarpaper, and a variety of other materials to create layered and visceral narratives. Her work has been described as rich, dramatic, wooden and mixed media narratives that construct a fantastical reverie.
Catherine Thornton's inspiration, "Instruments become a personality to the musician. If you ask, some musicians even give them names! If a violin has a name, it should have a face.
My violin has as many faces as a person might have moods. For the most part, humor plays a role in my art. To make you laugh but to make you think as well. If I do a piece that doesn't employ humor, then it will have some other strong emotion or message attached. I love beautiful art for the sake of beauty, but I just can't seem to go in that direction. The nuances in the human psyche are so intricate and convoluted. I should never run out of subject matter."
For more information on the New Bern NC Symphony Board or Gala, go to NewBernStringFling.com or contact Linda Staunch, New Bern Board President at 252-638-9050. For more information on the North Carolina Symphony visit NCSymphony.org.
Get your tickets today!
Information provided by: Tom Payne, Joanne Payne, Linda Staunch, and Susan-Moffat Thomas
Tell us what you think by commenting below or sending us an email. Visit New Bern Now's Facebook page or sign up for daily updates by submitting your email address in the right margin on New Bern Now's website.
Wendy Card