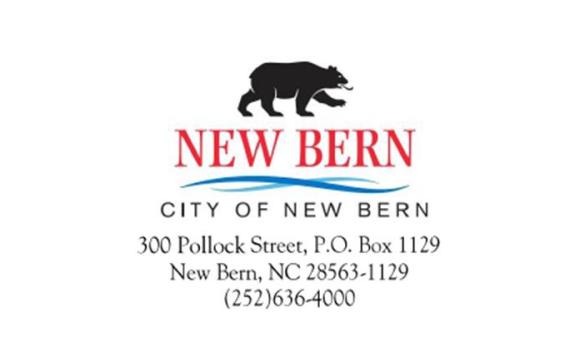 Large scale project will impact daily commutes
The City of New Bern has begun a large scale street resurfacing project that will impact motorists and pedestrians. Fourteen city streets will be repaired and repaved over what is expected to be a four month project.
Barnhill Contracting Company was awarded the street resurfacing project in April. This week, Barnhill crews began work to repair and resurface a section of Trent Road, from Simmons Street to First Street, which the City is responsible for maintaining. Fort Totten Drive, Second/Rhem Street, Third Street, Fifth Street, Ninth Street, and portions of Pollock Street will be included in this phase of the project. Once completed, Trent Road will feature one lane in each direction, a new center turning lane and five foot bike lanes on each side. This phase of the resurfacing project is expected to last about three weeks.
Once Trent Road is finished, work crews will move north to the second phase of the project. This will include Contentnea Avenue from National to Fayetteville, and Neuse Avenue from National to Greensboro. The third phase of the project includes Chestnut Avenue, Pembroke Avenue and College Street. And finally, the fourth phase of the street resurfacing project includes Elizabeth Avenue from HJ MacDonald Middle School to Tobiano Drive.
"We chose these streets based on several criteria," said Matt Montanye, Director of Public Works. "First, we looked at the 'High Priority' streets listed in the City's 2014 Street Condition Survey. Then, we looked at which streets are highly traveled. And finally, we looked at location to ensure that all of the work was not being done in one general area."
"Completion of each phase of this project is largely dependent upon the extent of repair needed on the roadways and, of course, the weather," added Montanye. "We're hoping for a nice stretch of milder weather so that we can complete these projects on schedule."
Work will begin first thing in the morning and last through the evening commute to mill the surface of the roads, repair them, and eventually repave them. The contractor will make every effort to maintain at least one lane of traffic flow during the resurfacing project, staged with traffic control personnel. However, motorists should expect delays. Motorists and pedestrians are encouraged to avoid road construction areas. If you must use these routes, use extreme caution when navigating your way through the work zone.
"Our goal is to work every opportunity possible to get this large scale project finished as quickly and efficiently as possible," said Montanye.
If you have any questions or concerns during the construction of this project, call City of New Bern Public Works at (252)639-7501 or email us and reference the street resurfacing project.
Submitted by: Colleen Roberts, Public Information Officer for the City of New Bern