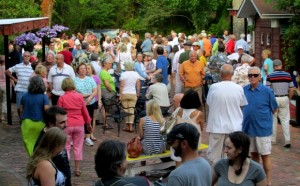 Sunday & Monday Movie Nights, 7pm
Bohemian Wednesdays with ART & Farm Market starts at 11am, Open mic from 6-9pm
Live Music on Thursdays at 6pm
Second Friday ARTcrawls
Bernaroo Music & Arts Festival
July 24: 6pm – 10pm
July 25: 2pm – 10pm
Isaac Taylor Garden & Gallery Cafè, 228 Craven Street, New Bern
Come out and enjoy this 2-day music festival at the beautiful Isaac Taylor Garden in Historic Downtown New Bern! The festival will feature acts from all over North Carolina, representing a variety of music genres. Live paintings, art gallery displays, craft vendors, local North Carolina food and beer will also be part of the experience. One-day admission is $15 per person, with 2-day passes available for $25 per person. The festivities will take place from 6pm – 10pm on Friday, July 24th and from 2pm – 10pm on Saturday, July 25th.
For additional event information, please contact Mr. Terence McElhennon via email at terencemce@gmail.com or visit http://www.bernaroomusicfest.com/
The Lego Movie (Movie Night at 7pm, $5 – Kids Under 10 Free)
August 9 – 10: 7pm – 9pm
Local videos provided by NewBernNow.com start at 6pm in the Isaac Taylor Garden & Gallery Cafè.
Enjoy an outdoor cinematic experience in our lovely garden courtyard! Concessions include popcorn, candy, soft drinks, beer and wine. Kids 10 and under get in Free!
The Lego Movie (2014) PG
An ordinary Lego construction worker, thought to be the prophesied 'Special', is recruited to join a quest to stop an evil tyrant from gluing the Lego universe into eternal stasis.
From www.rottentomatoes.com: Critics Consensus: Boasting beautiful animation, a charming voice cast, laugh-a-minute gags, and a surprisingly thoughtful story, The Lego Movie is colorful fun for all ages.
Bohemian Wednesday
Art & Farm Market starts at 11am
Open MIC from 6pm – 9pm
Wednesday, August 12
Wednesday, August 19
Wednesday, August 26
Wednesday, September 2
Wednesday, September 9
Wednesday, September 16
Wednesday, September 23
Wednesday, September 30
In the Isaac Taylor Garden & Gallery Cafè, 228 Craven Street, New Bern, NC.
Starting at 11am through the afternoon and evening, enjoy artists, farm vendors, and performers each Wednesday in August and September. Open mic starts at 6pm (musicians, poets, comics and storytellers welcome).
Showcasing the creative talents of Lisa Bisbee Lentz, Carol Jones, Meg Wethington, Tank Wethington, Jon Derby, Ben Watford, Ashley McDaniel, Scotty Bizzle, Dan Phillips, Jan Ebbing, Dan Zadurski, Sara's Baked Goodies, Katie Wiggs, Mary Castles, Curtis Blake, Miquela De Leon and more!
Live Music (The Fearless Freaks (acoustic) $5, Gates Open at 6pm), August 13, 6pm – 9pm in the Isaac Taylor Garden & Gallery Caffè.
The Fearless Freaks started life as an acoustic ensemble dedicated to performing renditions of songs by Oklahoma rock group The Flaming Lips. Taking their name from the title of the documentary by Brad Beasley, Parker Millar, Kenny Castania and Terry McElhennon formed the group in the summer of 2014, meeting every Wednesday to play open-mic night at Mesh Sports Bar on Trent Road.
After recording Be Kind to Animals, an album of acoustic covers of The Flaming Lips, and UFO's at the Mesh 2, a live collaboration between the Fearless Freaks and the amazing musicians who frequent open-mic night at Mesh Sports Bar, the band rounded out their lineup, adding drummer and multi-instrumentalist Jake Ross.
The Fearless Freaks have since recorded a debut full-length album entitled Mindkiller with the help of local audio engineer John Parker of Track One Productions. The band continues to be a fixture of the blossoming music scene in New Bern, North Carolina, and on August 13th they will be playing a special acoustic set downtown at the Isaac Taylor Garden. Their positive mentality and feel-good brand of psychedelic rock music are best summed up with the Fearless Freaks' motto: We Are Freaks And We Love You!
Contact the Fearless Freaks:
Facebook: Facebook.com/FearlessFreaks333
Website: FearlessFreaks.Bandcamp.com/
Email: fearlessfreaks33@gmail.com
For more info, visit The Isaac Taylor House and Garden's website or phone Miquela at 252-649-1712.
Submitted by: Miquela De Leon, Isaac Taylor Garden