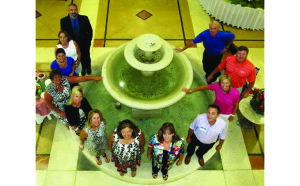 The 12th Annual Thea's Ideas Christmas in July mini-trade show will arrive at the New Bern DoubleTree by Hilton on Thursday, July 23 from 10 a.m. until 2 p.m. and will benefit Religious Community Services (RCS).
Thea Kincaid started the event in 2003 to bring national marketing vendors to New Bern and introduce them to her clients. She was inspired to add the RCS collection in 2010 after visiting the RCS soup kitchen, "I saw first-hand the need for donations in the summertime.  I felt the food drive was important to support kids and families in and around New Bern and of course, the community support for it has been overwhelming. We are so blessed to be part of such a giving community."
Business owners and non-profit organizers are encouraged to attend this marketing expo. Those who bring a donation (food or monetary) for RCS, will get to take home a Bouge Sound watermelon fresh from Garner Farms in Newport.
"Summertime is especially tough for families trying to feed school age children. By working together, we really can make it Christmas in July for those families," notes Thea.  The donations will be collected and delivered to RCS on Thursday, July 23 as part of the Christmas in July event.
For more information go to theasideas.com and click on Christmas in July.
Submitted by: Jane Maulucci, The Reactive Voice