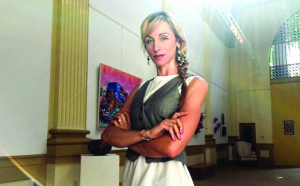 Craven Arts Council & Gallery, Inc. (CAC&G) announces the appointment of Beth Ellis as the Arts Council's new Marketing and Gallery Director. "Beth brings to us not only extensive experience in the business and marketing fields, but also great interest and talent in the arts as well," says CAC&G Executive Director Carol Tokarski. "Of the many candidates with whom we spoke, Beth was a clear standout. I can see her role here growing in many different directions, and we're pleased to have her with us."
Ellis completed her BBA in Marketing at Pace University's Lubin School of Business in New York, with an in-depth study of Art.  She earned her MBA in Management at Rider University in New Jersey, and her JD at Thomas Jefferson School of Law in California.  Ellis has worked across three continents in Marketing and Business Development, for both small and multi-national companies, and taught undergraduate classes as an adjunct professor.  Although she has a strong background in corporate work, she also founded a non-profit initiative in Kosovo. Its mission was to build the English-language offerings in the national library. The project was taken over by the American Embassy, and the library now has the largest collection of English-language books in the region.
"CAC&G has a very busy year planned not only with gallery exhibits, but also with projects such as Flags of Hope and the Unity through the Arts initiative," says Tokarski, "and clearly, we're grateful to have Beth's skills and energy at every step along the way."
Beth Ellis can be reached at 252-638-2577 or @cravenarts via Twitter, Facebook, LinkedIn, and Instagram.
Submitted by: Carol Tokarski, Executive  Director, The Bank of the Arts, Craven Arts Council and Gallery