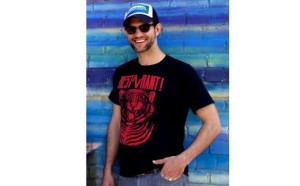 Martha Hall Jenkins passed away on July 11, 2005 after losing her fight with cancer.
She was the Craven Arts Council Gallery Coordinator from 1984 to 1986. Her art teaching career began at JT Barber School in 1986.
In 1991 she joined the art staff at NBHS where she taught until February 2005. During her career she touched many lives and earned the respect of artists and students.
An art scholarship in her memory was established by the Twin Rivers Artists Association.
This year marks the 10th anniversary of her passing. A concert to benefit the scholarship is planned for July 9 at the Isaac Taylor Garden, 228 Craven Street.
Martha's son, Stephen, will travel from Charleston, SC, and perform from 7 to 10 pm.
His music is not quite bluegrass, not quite folk, not quite acoustic jam rock, sometimes all of the above.
Tickets are $20 each and can be purchased at the Bank of the Arts. Beer and wine will be available at a cash bar. The Who's Hungry Food Truck will be on site from 6:30 to 9 pm and 10% of food sales will go to the scholarship.
For more information, contact the Bank of the Arts, 638-2577.
Also, on July 10 during Art Walk and Art Crawl, Martha's original artwork will be on exhibit in the Christ Church Harrison Center, 311 Middle Street. Stephen will be performing that evening from 5 to 7 pm at the Red Shoe Studio Gallery in Artisan Square behind the Bank of the Arts.
More about Martha: She was a native of New Bern and graduated from New Bern High School in 1968. She graduated from Meredith College with a degree in art education. She loved painting water colors and also became an accomplished potter.
The Twin Rivers Artists Association established the scholarship in 2006 and there have been 10 recipients as of 2015. Applications can be submitted to the TRAA and instructions for submission are available at the NBHS office.
Thanks to her family, primarily her brother, Flavius B. Hall, Jr., her legacy as an artist, a teacher and wonderful Christian mother and friend has grown significantly. During her life she established a reputation for excellence in all that she did. Her home was like an art gallery. She used her talents at Centenary Methodist Church, the Craven Arts Council, New Bern Civic Theater and the Craven County School System. She was well respected by artists, students, friends and family. Her son, Stephen who lives in Charleston is married to Ashley Bergin from Greensboro. They have a daughter, Lucy, who will be 2 years old on August 12. Martha's daughter, Maria, is married to Micah Gunn from Beaufort. They are expecting their first child in December and they live in Wilmington.
For more info about Martha and her artwork, you can contact Dan Jenkins, 252-671-2225.
Submitted by: Dan Jenkins