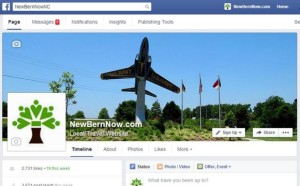 There are so many businesses and non-profits who hear that they need to have a social media presence and immediately create a Facebook page (or other social media sites like Twitter, LinkedIn, Instagram, etc.) without knowing what they're doing.
We feel your pain. We did the same thing a few years ago.
We believe in helping others so they don't have to experience the same frustrations that we did. We hope that you can learn from our mistakes.
Here's our top 3 mistakes that we made and hope that you won't make the same ones:
1. We created a business page and shared the posts from New Bern Now's website. That was it. We thought that we were being "social" because we were telling people about the latest happenings.
Lesson learned: The key word: "telling". It's not all about what we knew. Think about sitting in school and that one kid kept raising their hand. They were considered a "know it all" and we all know the rest of that story.
2. Some of our friends liked our page, but we didn't know that we should "like" other business or non-profit pages; therefore, nothing showed up on our page's timeline.
Lesson learned: The more we read about social media, we realized that we should be "liking" other pages so we could find out more about their businesses/non-profits. Once we started liking other pages, their posts started showing up on our timeline.
Since then, we've gotten to know businesses/non-profits throughout the greater New Bern area to the Crystal Coast and beyond. We've established relationships with them. Although we believe it's still important to make face-to-face connections, it's much easier to communicate online, especially after hours. To this day, we get excited when we finally meet someone face-to-face who we've been in touch with online over the years.
3. We posted irrelevant information to our followers – mixing personal with business.
Lesson learned: Although we didn't write anything that was too personal, we realized that a few things were related to our feelings/views on certain topics and should've been published on our personal pages vs. business page.
With that said, social means engaging others to let them know that we care about what they have to say and we're interested in their products and services. Please note: if you don't care, don't like their page. Be real. If someone is posting things that you don't agree with, don't like what they said. If you do, others will see that you do and if it's a sore subject, their opinion of you may change drastically.
It's easy to get caught up in politics or other controversial topics, but if you're posting under your business page, be prepared to lose customers who don't agree with you. This doesn't only pertain to your business page. If you post something on your personal page that could be perceived in a negative way, you may lose prospective clients as well as friends.
Social media sites are what you make of them. If you're wondering why nobody likes your page, consider the above.
Was this information helpful?
Tell us what you think by commenting below or sending us an email. Visit New Bern Now's Facebook page or sign up for the latest updates by submitting your email address in the right margin on New Bern Now's website.
Wendy Card