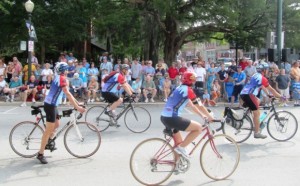 Join us on Saturday, June 20th at 9:00am for our Cover Shoot of the Ledger Magazine for the 3rd Quarter (July – September) edition.
If you own a bicycle and want to be on the cover, join us at the circle between the DoubleTree by Hilton (between the Hotel and Inn).
We chose the theme as the Bike MS Ride in Historic New Bern is scheduled for September 12th – 13th at Union Point Park.
Tell us what you think by commenting below or sending us an email. Visit New Bern Now's Facebook page or sign up for the latest updates by submitting your email address in the right margin on New Bern Now's website.
Wendy Card