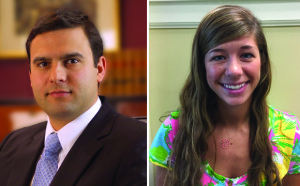 The United Way of Coastal Carolina would like to welcome two new board members; Aaron Arnette and Leanna Tyson. These new board members bring knowledge and expertise in their respective fields that add to the overall diversity and community outreach of the local United Way board.
Leanna Tyson is a New Bern native and has a deep love and appreciation for Eastern North Carolina. She graduated from Arendell Parrott Academy in 2009 and then went on to earn a Marketing degree from the University of North Carolina at Wilmington. Upon moving back to New Bern in 2013, Leanna has been actively involved in the community. She is a real estate broker for Tyson & Hooks Reality, Inc.
Aaron Arnette is originally from Kinston and attended North Carolina State University and Campbell Law School. His real estate practice includes residential and commercial closings, organization of planned community developments and homeowners associations, as well as litigation involving land and lease disputes. Aaron is employed with Sumrell Sugg Attorneys at Law and resides in New Bern with his wife, Lauren, and their two children.
The United Way of Coastal Carolina had its beginnings in the Coastal Carolina area in 1957. What started as just a fundraising organization many years ago, has developed into an organization focused on measurable, long-lasting results focused on the local community's most compelling needs. Education, Income and Health are the three major areas of focus. Currently there are 19 funded programs serving individuals in Carteret, Craven, Jones and Pamlico Counties. Funds are raised locally to fund local programs. For more information visit www.unitedwaycoastalnc.org.
Submitted by: Tate Johnson, Resource Development & Marketing Coordinator, United Way of Coastal Carolina, Inc.