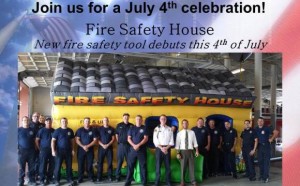 Fireworks show begins at 9:15 p.m.
Make your plans to spend July 4th in New Bern, North Carolina! The City is hosting an afternoon full of fun and a spectacular evening fireworks show at Lawson Creek Park.
The park opens at 3 p.m. when visitors can come enjoy food vendors and games for the kids. Ticketed inflatable bounce houses will be set up as well as a facepainting station and misting tent. This year, a deejay will join the festivities, hosting dance contests and two stage shows. A magician will also roam the crowds entertaining young and old alike.
One of the star attractions at this year's celebration is the City's new fire safety house – a towering, inflatable fire safety tool designed to teach kids the dangers of fire and how to escape a burning home quickly and safely. The fire safety house is complete with a smoke alarm and a smoke machine to simulate a real fire. Recently, the fire safety house was purchased by the City when repairs began mounting on the previous one. The current design allows for a more portable display, unlike the previous one which was mounted on a trailer. "We had to tow the old one from location to location. It was mounted on a trailer and it took several minutes to get it in place and set up for tours," said Interim Fire Rescue Chief Bobby Boyd. "This one can be set up within minutes and repairs to inflatables are often more cost-efficient for the department." Best of all, tours of the new fire safety house are free.
The fireworks show begins at 9:15 p.m. The fireworks will be launched from land on the east side of the park. New Bern Fire Rescue and the New Bern Police Department will be staged in this area, which will be off limits to park visitors for safety reasons. "We've put a lot of hard work and planning into this celebration and the fireworks will be a perfect ending to a summer night!" said Thurman Hardison, Parks & Recreation Director.
Visitors are encouraged to park their vehicles inside Lawson Creek Park or at Temple Baptist Church, located at 1500 Kingdom Way. A courtesy shuttle is available to and from the park from the church. New, handicapped accessible parking is being made available this year at the boat launch parking lot on the north side of Lawson Creek Park. The boat launch on the east side of the park will be closed from 11 p.m. July 3rd to 11 p.m. on July 4th. Boaters are encouraged to use the north side boat launch, but be aware it will close at 3 p.m. on July 4th in advance of the afternoon and evening festivities.
Coolers are welcome in the park, but do not bring glass containers, alcohol, weapons, fireworks, or pets. Bicyclists are asked to refrain from riding in the park. Please dismount your bike and walk it through the park. Feel free to bring chairs and blankets and please heed the instructions and direction of law enforcement. Most of all, be safe and enjoy the show!
Submitted by: Colleen Roberts, Public Information Officer for the City of New Bern