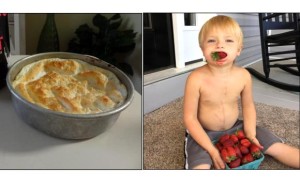 Ingredients:
– 7 room temp egg whites (use white from real eggs, not carton)
– 1 scoop Fitmiss Vanilla Chai Protein
– 1 tsp cream of tartar
– 1 tsp vanilla or any extract you want
– Stevia to taste
Directions:
Make sure eggs are at room temp. Preheat oven to 350 degrees.
Separate egg whites, and place all ingredients (EXCEPT for whey) in mixing bowl.
Mix on highest speed for a few minutes until high peaks. I use the whisk beater attachment.
Sprinkle whey on top. Fold in gently and carefully. Do NOT over mix.
Place in sprayed round pan and then in oven for 20 minutes.
Let cool and top with fresh strawberries
For more resources to help you live a healthy, happy and balanced life, check out:www.beyondfitphysiques.com.
By Kate Horney, Healthy Living Contributing Author, Beyond Fit Physiques