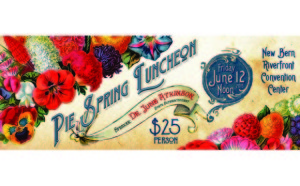 Looking for the perfect way to enjoy lunch, listen to marvelous music, have a chance to win sweet door prizes, and support Craven County Partners In Education? Tabari Wallace, President of Craven County Partners In Education's Board of Directors, and Principal at Havelock Middle School, announced that the 2015 Partners In Education Annual Spring Luncheon will be emceed by Valentina Wilson, News Anchor with WCTI, special performances by the Havelock Middle School Band, and feature guest speaker, Dr. June Atkinson, Superintendent of the Public Schools of North Carolina. The luncheon will be held Friday, June 12, 2015, at the New Bern Riverfront Convention and Visitors Center. Doors open at 11:30 am for seating. The event begins at Noon and The Flame is the caterer. Tickets are $25 per person.
Attending the luncheon will be over 500 teachers, school staff members, and community supporters. This event is open to the public and is a great way to show support for our public school educators and administrators. Mr. Wallace explains, "It is an excellent opportunity for our community to show their support of Craven County Schools. All proceeds from the luncheon will be used to support our local schools through PIE Grant programs."
Mr. Wallace also announced the sponsors of the luncheon. At the "Major Sponsorship Level":  Joe Alcoke Auto & Truck Sales, AlphaGraphics, BB&T, The Harold H. Bate Foundation, Bojangle's/Tands, Bosch Home Appliances – B/S/H/, CarolinaEast Health System, Century 21 Zaytoun-Raines, Coastal Carolina Health Care, Craven Community College, Craven County Schools, Digity Media (WERO and WRNS), E & J Automotive, First Citizens Bank, Fuel Market/Fisher Oil, Inner Banks Media (WNBU), the little bank, Mitchell Hardware, Morgan's Tavern & Grill, PotashCorp, Sun Journal, Ward and Smith PA, Wells Fargo, Weyerhaeuser, and Williams Scarborough Smith & Gray, LLP.  At the "Principal Level": A Dog's Dream and Duke Energy Carolinas. At the "Educator Level": Coastal Children's Clinic; Coldwell Banker Willis Smith; Dunn, Pittman, Skinner, & Cushman, LLC; and Pepsi Minges Bottling.
To purchase a ticket, contact Darlene Brown, Executive Director, Craven County Partners In Education, at 514-6321 or you can purchase a ticket online until Friday, June 5, 2015 at www.CravenPartners.com.
Visit the PIE website at www.CravenPartners.com to learn more about the programs and sponsorships offered by Partners In Education.
Partners In Education is the local education foundation for Craven County Schools and provides grant funding and special programs to classrooms and schools within the Craven County Schools system. 
Since 1989, PIE has been changing the lives of students and families in our community by providing our educators with financial resources that enhance and reward innovative approaches to educational excellence.
Submitted by: Darlene Brown, Executive Director, Partners In Education