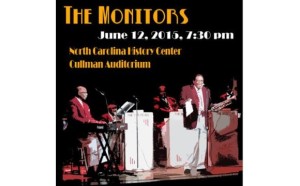 The Jazz Preservation Society of New Bern, in cooperation with the Craven Arts Council & Gallery Presents:
The Monitors, founded in the 1950's by Cleveland Flowe and Bill Myers, was organized to make available to the public a band that could play all kinds of music for any occasion. Since Flowe moved away, Myers is the only remaining member of the original group. The current group is comprised of: Bill Myers (Leader), Dale Bryce, Gerald "Bishop" Hunter, Mollie Hunter, Robert "Dick" Knight, Sam "The Man" Lathan, Clark Mills Jr., Leanard Palmer, Elvis Townsen, and Donald Tuckson.
This outstanding musical ensemble has played at concerts, cabarets and street festivals and performed opening concerts for stars such as Ray Charles and Roberta Flack as well as being the back-up band for celebrity artists such as Otis Redding, Millie Jackson, Major Lance, Faye Adams, Joyce Thorne, Connie Harvey, Maceo Parker and Milton Bulluck. The Monitors were the featured guests with the Barton College/Wilson Symphony Orchestra, and they completed a tour in North and South Carolina with the North Carolina Symphony Orchestra. Bill Myers, Gerald Hunter, Robert Knight and Sam Lathan are featured on the African-American Music Trail in eastern North Carolina; and Bill Myers was honored with the 2014 NC Heritage Award.
Tickets are $20 and are available at the Craven Arts Council & Gallery or online at http://www.cravenarts.org/the-monitors.html.
For additional information, contact the Craven Arts Council at 252-638-2577.
Submitted by: The Craven Arts Council at the Bank of the Arts