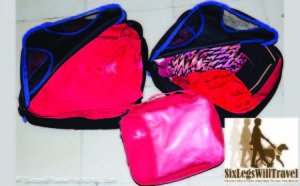 The worst part of any trip is packing. For me, it's a matter of too many choices and too little space.
I want to avoid lost luggage, and the hassles of finding and repacking things while moving around. Within a couple of days, my suitcase is so messy, I have to sit on it to get it closed. Here are some tried and true packing tips for keeping your sanity before and during your trip.
What to carry: We purchased Travelpro™ rolling carry-on bags that are designed to hold as much as possible. There is a section in the lid for flat items such as suits and dresses, plus two exterior and two interior compartments. The case can expand for items purchased on vacation, but you will then have to check it.
Since airlines also allow one personal item, I carry my briefcase. Inside is my purse, laptop, other technology items, toiletry bag, a couple of days worth of food for my guide dog, Otto, and other small items. Immediately after boarding, my purse and computer emerge, and the briefcase disappears into the overhead bin.
What to pack: Packing cubes are zip-up gems that come in a variety of sizes, colors and styles. Pack them with entire outfits, categories of clothing or toiletries. Put them on a shelf when you reach your destination, easily find what you need and pop them back in your suitcase when you're ready to move on.
For our most recent month-long trip, we bought eaglecreek™ double-sided small wet/dry cubes. I used mine for undies/bras on one side and socks on the other. My husband used the dry side for underwear and the wet side for damp items such as workout gear.
We also bought a set of four Shacke cubes that came with an additional laundry bag, but I only used two for the current trip.
The one drawback to this particular brand of cubes is that they only come in black. If you're traveling as a family, you might consider cubes that come in different colors, so the kids can each have their own, thus heading off at least one potential battle.
My all-time favorite, though, isn't a cube at all. It's a hanging toiletry bag, with everything in clear plastic-sections. It's TSA friendly, and you can easily move it from room to bathroom, and back again. This is handy if you are sharing a bathroom in a home or Bed & Breakfast.
We watched a number of videos on YouTube before deciding what we wanted. This is a good way to see what's available.
Packing: Our suitcases have trenches on the interior because of the extending handle. I filled mine with shoes, hairdryer, and other items that created a level surface for my cubes.
The space in the lid held laundry bag, jeans, and slacks.
One of my larger cubes held lightweight items, including five rolled-up tops, six folded shirts, two pairs of Capri's and a wash and wear dress. The second held a light cardigan and four long-sleeved tops. Since we were traveling to both warm and cool climates, layering was a must.
So, now you have the basics. If you would like more packing tips, let me know, and I'll get down to the finer details in a future post.
Meanwhile, I wish you all safe and happy travels.
Note: Products mentioned in this article are ones I use myself. I receive no compensation from any store or manufacturer.
By Contributing Writer: Penny Zibula, Travel and Freelance Writer, SixLegsWillTravel.com