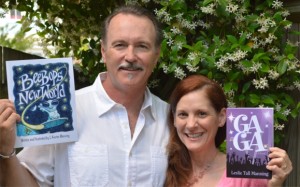 Listen to Laura Johnson's radio interview with Leslie Tall Manning and Jay Kenton Manning airing on WNOS 97.1FM and 1450AM or listen below to learn more:

His is a children's book. Hers is women's fiction. His stars a baby alien, visiting Earth, exploring all of its magical wonders. Hers stars a coming-of-middle-age woman who poses as a groupie to snag an interview with a comeback rock-and-roller.
So, then, what do these two authors have in common, besides being happily married?  They've decided to publish at the same time!
"I wrote Beebop's New World fifteen years ago," says the husband, Jay Kenton Manning, a graduate of Art Center in Pasadena, California. "It made the rounds to the big publishing houses, which back then were twice as many as today. A few of the editors loved it, but when no one picked it up, I stuck the poor guy in a box and left him there. But he always stayed in the back of my mind. One day, last winter, I woke up and said, 'Today's the day. Beebop wants to come back.'"
The wife, Leslie Tall Manning, nods enthusiastically in agreement.
When asked about her own book, she says, "GAGA, although my debut novel, is not my first, or my second. It is number six out of ten." She says this matter-of-factly, as if everyone has the gumption to write ten books. "I had to give it a more current overhaul. It was originally written in 2006."
"Yes," Jay says, "but that's not as long ago as Beebop."
"True," Leslie says, whose backlist includes five young adult five adult titles. "But ten books?" Together they share part sigh, part chuckle.
So why now? Why at the same time?
"Serendipity?" Leslie quips.
"Of course," Jay says in return. "What else?"
"We really didn't plan it this way. It just…sort of…"
"Happened."
"I guess now you could say we really do -"
"Share everything!"
They finish each others' sentences, smile like two kids who share a secret, and keep slapping each other playfully on the arm or wrist.
"In all seriousness," Leslie says. "Life is short. Now is the time. Something about being over fifty, writing for fifteen years, having a literary agent who supports me, and wanting to share my stories, well, how can this NOT be the right time?"
Jay adds, "'Now' always makes sense. We just didn't know it until now. Does that make sense?"
Again, they laugh.
"We are doing it without the help of a traditional publishing or marketing team, unfortunately, or fortunately," Leslie says. "One could look at it both ways. Both Jay and I were overlooked by top editors. In a way, we were forced to go the autonomous route. But there is an amazing flipside: We get to do it however we like. We design the covers. The font. The paper color. The price. We even get to choose where we will do our book tours, and starting in New Bern…well, where else would we start? Here, in New Bern, are the most amazingly supportive people I have ever met. Ever. I can't imagine our respective book launches starting anywhere else."
Jay Kenton Manning and Leslie Tall Manning will be signing their books at the Isaac Taylor Garden on June 12th from 5 – 8 pm.
"Come see me," Jay says, then gets elbowed by his wife. "I mean, both of us!"
Get to know Jay: www.Beebop.club.
Get to know Leslie: www.leslietallmanning.com.
Submitted by: Leslie Tall Manning and Jay Kenton Manning