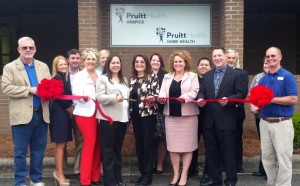 The New Bern Area Chamber of Commerce held a grand opening & ribbon cutting ceremony at PruittHealth Hospice & PruittHealth Home Health at 4:30 pm on Friday, April 30th.
The Chamber of Commerce is very attentive to the attraction and promotion of new business in the New Bern area and recently celebrated a ribbon cutting ceremony.  The event also served as the grand opening of PruittHealth Hospice and PruittHealth Home Health as they joined forces and will now be located in the same facility to better serve the community.  Refreshments and beverages were served to celebrate the occasion.
PruittHealth is located at 810 Kennedy Ave., New Bern. To learn more about PruiettHealth, visit their web site at:  http://www.pruitthealth.com/locator
If you are currently not a member of the chamber and would like to be, please send an email to the chamber at or call the office at 252-637-3111.
Since 1899, the New Bern Area Chamber of Commerce has successfully been serving the business community for over 115 years!  Located in beautiful historic downtown New Bern at 316 S. Front Street, the New Bern Area Chamber of Commerce serves to positively cultivate economic stability for the local community by partnering with local businesses to promote and engage its members so they are positioned not only to succeed, but thrive. For information about the benefits of membership, please contact the chamber at 252-637-3111.
Submitted by: Millissa True, SBS Forward LLC