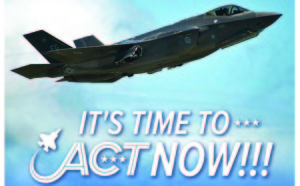 Allies for Cherry Point's Tomorrow invites you to our Community ACTion Gatherings to find out what's going on at MCAS Cherry Point and Fleet Readiness Center East.
Get valuable insight about future endeavors, including next generation F-35B Joint Strike Fighters and search and rescue "Pedro" units.
Learn about the economic impact to our community and everything ACT is doing to preserve and grow MCAS Cherry Point, the largest employer in Craven and Carteret Counties.
Your support is critical to the future of our base, so spread the word with your friends and colleagues and make plans to attend one of our local events:
Join us at one of the following sessions:
May 14 at 5:30pm – 7:30pm in the Isaac Taylor Gardens, New Bern *
May 15 at 7:30am – 9:00am at Brantley's Village Restaurant, Oriental
May 19 at 5:30pm – 7:00pm at Pollocksville Town Park, Pollocksville
May 21 at 5:30pm – 7:30pm at the Train Depot, Morehead City
May 28 at 4:30pm – 6:30pm at the Havelock Tourist and Event Center, Havelock *
* Featuring music by Bryan Mayer, CMT local favorite!
Please RSVP to Mickie Stroud via email or call 252-631-5021 and note which event you plan to attend.
For more information, visit AlliesForCherryPoint.com or check out their Facebook page.
Submitted by: Shannon LuQuire, Trade Ideas, LLC