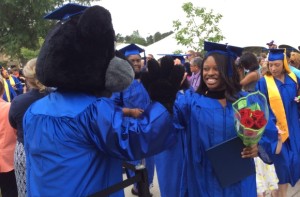 Craven Community College (CCC) held its 48th commencement on May 16 at the New Bern campus. The Class of 2015 included 591 graduates, with the youngest graduate being 16 years old and the most mature graduate being 64 years young. There were 39 graduates from adult high school programs. There were 36 graduates of Craven Early College and 42 graduates of Early College EAST.
Dr. Scott Ralls, president of the North Carolina Community College System, was president of Craven Community College from 2002-2008, delivered the commencement address. Kevin Roberts, chair of the college's board of trustees, presented 243 graduates with their diplomas. President Dr. Catherine Chew and other college leadership congratulated each graduate. College mascot Knight the Panther gave a "high five" to all graduates as they exited the ceremony.
In previous years, the college's "honors" designation has been given to students earning at least a 3.50 grade point average (GPA). This year, CCC added a Latin honors distinction. Graduates receiving associate degrees who completed at least half of their semester hours at the college, and have at least a 3.50 GPA, will still receive the "honors" distinction. In addition, students who achieved a cumulative GPA of 3.70 or better, will earn Latin honors as outlined: cum laude (3.70), magna cum laude (3.80) and summa cum laude (3.90). Students who received these distinctions were recognized at the commencement ceremony.
"The idea of using Latin honors came directly from our students. It adds additional distinction to the culmination of their academic pursuits, and recognizes them as scholars. Craven is fully supportive of initiatives that highlight the college's focus on academic excellence, and we applaud the students for making this wonderful suggestion," said Dr. Daryl Minus, executive vice president of learning and student services.
Founded in 1965, Craven Community College is part of the North Carolina Community College System. In the 2014-15 academic year, the college celebrates its 50th year as an independent institution. With campuses in New Bern and Havelock-Cherry Point, Craven serves about 3,200 curriculum students and more than 10,000 continuing education students each year. The college offers a wide range of associate degree and certificate programs, as well as college transfer courses, career and occupational offerings, partnerships with four-year universities, specialized workforce training options, developmental studies and basic skills classes. Craven Early College High School programs are available on both campuses. Craven is also home to Public Radio East, one of the few community colleges nationally with this distinction. For more information about the college, visit www.cravencc.edu.
Submitted by: Deborah Kania, Director of Marketing, Communications & Development Liaison, Craven Community College