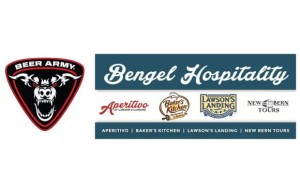 Beer Army and Bengel Hospitality today announced their partnership in bringing a new restaurant to downtown New Bern. The restaurant and pub will be located at 313 Pollock Street and will offer a wide variety of craft beer from around the world, as well as a menu of burgers, sandwiches and salads.
The new restaurant will join Baker's Kitchen, Lawson's Landing and Aperitivo as another unique downtown food option from Bengel Hospitality.
"We know that Bengel Hospitality is the right partner for Beer Army as we grow our business and brand," said Retired Major Dustin Canestorp, Founder and General of Beer Army. "I feel confident the new location and the addition of food will bring in more tourists and families, while still catering to our core audience. This will enable us to do even more for the community."
Thanks to the new partnership, the Beer Amy Foundation, which has done great work in the Eastern North Carolina community, will continue. To date, the Foundation has donated over $90,000 to various charities and generated more than $2.1 million dollars' worth of economic impact in Eastern North Carolina.
"Downtown New Bern is the place to be and we are thrilled to open yet another unique option where you can get a quality burger and a great beer at an affordable cost in a relaxed atmosphere," stated Buddy Bengel of Bengel Hospitality. "When given the opportunity to partner with Dustin, we jumped at the chance.  He has done an amazing job building the Beer Army brand and following. We aren't looking to change his business, only enhance the experience with outstanding food in a great location."
The menu will consist of specialty burgers, sandwiches and salads. In addition to the numerous craft brews available, they will also offer a fully stocked bar of wine and spirits. The restaurant will also have a retail area where customers can purchase a variety of unique craft beers for off premise consumption and Beer Army branded merchandise.
Canestorp has been at the helm of Beer Army since 2008. After the loss of a fellow Marine in Iraq, Canestorp started Beer Army as a quasi-memorial company and nonprofit dedicated to all service members who have paid the ultimate price for our country. For Canestorp, Beer Army is more than a company and opening a new location downtown celebrates the American dream.
In recognition of the Beer Army's beginnings, the restaurant will have a military motif and cater to the military community with weekly specials for active duty servicemen/women and their families.
About Bengel Hospitality: Driven by a demand for high quality food and outstanding customer service, Bengel Hospitality has a taste for every budget. From breakfast, brunch, lunch, dinner, to a unique wine tasting and small plates experience and catering options, you can count on any one of the Bengel Hospitality four restaurants to entice your palates and give you a wonderful epicurean experience, whether dining in or through our catering services. Bengel Hospitality restaurants, Baker's Kitchen, Lawson's Landing and Aperitivo, are all located in downtown New Bern, the dining epicenter for New Bern. Bengel Hospitality also owns and operates New Bern Tours which offers a wide range of tour and transportation options that are designed to suit any event.
About Beer Army: Beer Army, LLC was founded in 2008 with a simply mission, grow the craft beer scene in Eastern North Carolina. Since that time their mission has evolved to promoting education, volunteerism and economic impact. Beer Army has been at the forefront of educating beer consumers while supporting the communities that support them with creative beer related public events. You can find out more about the Beer Army Foundation at BeerArmy.org.
Submitted by: Amber McCraken, Current Communications