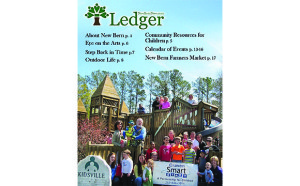 We're very happy to announce that the April – June Quarterly Ledger Magazine is available online, in color! The print edition will be available soon!
Since April is Child Abuse Prevention Month, the Month of the Military Child, and the Month of the Young Child we decided to do the cover shoot at Kidsville. We're thankful for Pinkie Moore, Community Outreach Coordinator for Craven Smart Start, Inc., as she wrote the cover article.
We really appreciate everyone who took time out of their busy schedules to contribute valuable community information for the Ledger magazine and New Bern Now's website. It truly does take a village.
We hope you enjoy New Bern Now's 2nd Quarter Ledger as it's filled with all kinds of information, including "About New Bern, Editor's Letter, Arts, History, Outdoor Recreation, Calendar of Events, Shopping, Dining, Community Notes, and much more!
Special thanks to our sponsors for their support! Without them, we couldn't afford to print this 20 page publication distributed at the Airport and numerous locations throughout the Greater New Bern area and beyond.
A lot of New Bern Now's articles and announcements are written by locals. Residents of the Greater New Bern area have embraced New Bern Now's website and Ledger. It's a place for people to come together and share positive information.
Special thanks to Griffin & Tilghman Printers as Sharon Arthur and Tommy Tilgman do a wonderful job printing the hardcopies of the Ledger.
The Ledger magazine will be available in print soon, we'll keep you posted.
Tell us what you think by commenting below or sending us an email. Don't forget to visit New Bern Now's Facebook Page!
Thank you,
Wendy Card