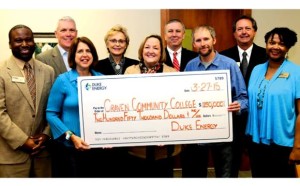 Duke Energy and Craven Community College (CCC) today announced that the college has received a $250,000 grant from the Duke Energy Foundation.
The funds will be used to purchase state-of-the art-virtual welding machines. The welding machines will be incorporated into the welding technology degree program. CCC sought the grant in order to educate and produce fully-skilled welders to fill regional employment gaps.
"Our college has offered welding training in all 50 years of its existence. The Duke Energy grant will allow us to enhance and grow our welding program in order to continue providing a solid career opportunity for our students," said Dr. Catherine Chew, CCC president.
"A highly trained workforce is essential to North Carolina's future," said Millie Chalk, Duke Energy district manager. "We're proud to partner with Craven Community College and help shape the next generation of skilled workers who will move our region's business community forward."
This grant is part of Duke Energy's $30 million investment in North Carolina Community Colleges' focus on technical education and support of business and industry. Individual community colleges can apply for funds through the NC Community Foundation. Applications will be reviewed by a committee of representatives from Duke Energy, NC Community College System and NC Department of Commerce.
Craven Community College
Founded in 1965, Craven Community College is part of the North Carolina Community College System.  In the 2014-15 academic year, the college celebrates its 50th year as an independent institution. With campuses in New Bern and Havelock-Cherry Point, Craven serves about 3,200 curriculum students and more than 10,000 continuing education students each year. The college offers a wide range of associate degree and certificate programs, as well as college transfer courses, career and occupational offerings, partnerships with four-year universities, specialized workforce training options, developmental studies and basic skills classes. Craven Early College High School programs are available on both campuses. Craven is also home to Public Radio East, one of the few community colleges nationally with this distinction. For more information about the college, visit www.cravencc.edu.
About Duke Energy Foundation
The Duke Energy Foundation provides philanthropic support to address the needs vital to the health of our communities. Annually, the Foundation funds more than $25 million in charitable grants, with a focus on education, environment, economic and workforce development and community impact. Duke Energy has long been committed to supporting the communities where its customers and employees live and work, and will continue to build on this legacy.
Above photo: Duke Energy District Manger Millie Chalk (center) delivers $250,000 grant to Craven Community College (CCC) representatives (L-R): Dr. Daryl Minus, executive vice president of learning and student services; Kevin Roberts,chair of the CCC Board of Trustees; Judy Eurich, executive director of institutional advancement; Dr. Catherine Chew, president; Jim Millard, dean of career programs; Eric Braddy, welding instructor; Ricky Meadows, chair of industrial, transportation and service programs; and Monica Minus, director, grants and strategic partnerships.
Submitted by: Deborah Kania, Craven Community College