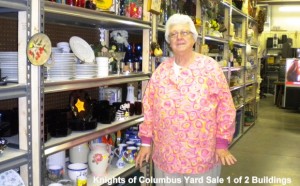 Laura Johnson interviewed Clark French, Member of the Knights of Columbus and Yard Sale Committee to learn more about their Spring Yard Sale. Listen to the radio interview aired on New Bern News Talk Radio WNOS 97.1FM and 1450AM. You can also hear the interview online on NBN's Libsyn page:

Knights of Columbus Father Kenneth I. Parker Assembly will have the first yard sale of 2015 in two large buildings at 1125 Pine Tree Drive. On Friday March 27, from 8 am to noon and Saturday, March 28, 7am to noon, rain or shine.
We have CD's, DVD's, records, electronics, big selection of small appliances, tools, home décor, jewelry, books, pictures, house wares, large assortment of craft supplies plus many other items for sale.
We have a separate building for furniture, appliances, rugs and exercise equipment. You will find we offer the best deals in town!
Know while you are shopping, you are helping to support others in need. Please come and especially see all of the new items.
We welcome donations of good and clean items. You may drop them off at the KC blue building, 1125 Pine Tree Drive from 10 am to noon on Tuesdays. If this is not possible call Sandy and Nancy Stewart 252-633-9419 to arrange for pick-ups. One phone call takes care of it! Donations are tax deductible. No donations after March 20, 2015.
Also donations of motorized vehicles are acceptable year round.
The Knights support many organizations, among them are Special Olympics, Relay for Life, Eastern Pregnancy Information Center, Senior Pharmacy, Fund for Needy Children, Religious Community Services, Wounded Warriors Leave Program, MERCI Clinic, and many others. The Knights of Columbus would like to thank you for your continued support of their projects.
Above details provided by Nancy Stewart, PR KC 4th Degree.
For more information, call 252-633-5632.
Tell us what you think by commenting below or sending us an email. Visit New Bern Now's Facebook page or sign up for the latest updates by submitting your email address in the right margin on New Bern Now's website.
Wendy Card