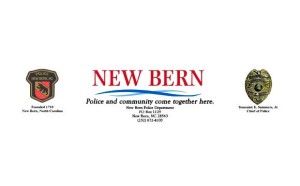 The police department will mark a somber anniversary this weekend as we continue mourning the loss last year of New Bern Police Department Officer Alexander Thalmann. While a year has passed, his death remains fresh in the hearts and minds of many within our staff. We continue to grieve the loss of our colleague. Alex was a member of our family.
Policing is a tough job. Last year, 127 police officers lost their lives in the line of duty. According to the Federal Bureau of Investigation's 2013 statistics, approximately 50,000 officers were victims of line-of-duty assaults. In nearly half of those cases, the officer(s) sustained injuries. Officer Alexander Thalmann understood the difficult and dangerous nature of police work. He upheld the traditions of a noble profession and embodied the principles of a law enforcement officer. He was committed to the mission of our department which is to improve quality of life in our community.
Our community has shown much appreciation over the last year for Officer Thalmann and the police department as a whole. We are thankful for the many messages of support from citizens and the law enforcement community.
Several events are scheduled in which Officer Alexander Thalmann will be remembered for his service:
– On April 11th, the Veterans Enforcers Motorcycle Association has organized a 50 mile benefit ride through Craven and Jones counties that will begin at Harley Davidson of New Bern and end at the New Bern Police Department. At the PD, they will lay a wreath in memory of Officer Thalmann. All proceeds will be used to create a scholarship for a student pursuing the Basic Law Enforcement Training Program at Craven Community College.
– On May 5th, the annual North Carolina Peace Officers Memorial Day Ceremony will take place in New Bern. The event will include a memorial service at 11 a.m. at Temple Baptist Church for representatives from all North Carolina law enforcement agencies and families of all law enforcement officers killed in the line of duty in our state. The event is open to the public.
– On May 12th in Washington, D.C., as part of National Police Week, Alex's name will be added to the national wall of law enforcement officers killed in the line of duty. Several events are planned as part of National Police Week, including a candlelight vigil, in which Alex will be remembered.
Please join us in the coming weeks as we pay tribute to our fallen comrade by supporting the events planned above, appreciating the bravery of our profession in the face of danger, and by thanking an officer as you pass them.
The New Bern Police Department is committed to the guiding principles of integrity, motivation, professionalism, accountability, commitment and trust which characterized the life and service of Officer Thalmann.
Let us never forget.
Submitted by: The City of New Bern Police Department