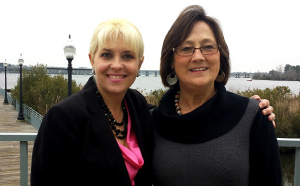 Listen to our interview with Lynne Davenport and Daphne Sherring, to find out more about the upcoming Taste of Coastal Carolina (TOCC). They are TOCC Committee Members for the Neuse Riverkeeper Foundation. The interview is airing on New Bern News Talk Radio WNOS 97.1FM and 1450AM. You can also hear the interview online on NBN's Libsyn page:

On Tuesday evening, March 10th, the Neuse Riverkeeper Foundation hosts its 12th annual Taste of Coastal Carolina. Held at New Bern's Riverfront Convention Center, this event brings together 30 of the area's restaurants, caterers, and this year, even food trucks, to allow the public to sample their food. The entry ticket lets you enjoy an unforgettable evening exploring Eastern North Carolina's tantalizing culinary arts scene. Sample amazing dishes from last year's winners; Fairfield Harbour Food & Spirits, Persimmons Restaurant, Christoph's on the Water, The Flame, Bay Leaf, and The Perfect Bite.
This year's event will feature signature dishes from several restaurants and food establishments who will be joining the Taste for the first time including the highly acclaimed Skylight Inn BBQ from Ayden, Ginger 108, an eclectic Southern/Asian fusion from Kinston, the new Wave Bar and Grill here in New Bern, the Galley Stores along with Skipjack Landing Events and Catering and KD's Fresh Garden Market. Lots of New Bern favorites who have participated in past Tastes will also be there: álarita's Gourmet Foods, Annabelle's, Bengal Hospitality Group (owner of Aperitivo, Baker's Kitchen, Lawson's Landing, and Ribeyes), Carolina Bagel, Cilantro's Mexican Grill, Craven Coffeehouse and Cafe, Friday's 1890 Seafood, Kitchen on Trent, Midtown Olive Oil, Strange and Sons Catering, Taco Rico, TaTa's Takeout Cafe, Trent River Coffee, The Village Butcher, and Who's Hungry Mobile Gourmet Catering. We'll also be serving desserts from Digirolamo Cakes, winner of the recent New Bern Farmer's Market Cupcake Wars, Heide's Gourmet Butter Mints, Kreative Cakez, Soo's Chocolate &  Bakery, and the Tickled Pink Bakery.
Come enjoy the festivities and help raise money to improve water quality in the local rivers.  Now, more than ever, the Neuse Riverkeeper Foundation needs the community's support and help to continue to advocate, educate and protect our local resources, the Neuse and Trent Rivers.  The ticket price includes unlimited sampling from all food vendors.  A few Patron tickets are still available at $100 per person. A Patron Ticket includes early admission to the 'Champagne Reception', reserved seating, unlimited beer and wine at the private bar, plus "first tastes" from the restaurants.  In addition, $65 of the ticket price is a tax-deductible contribution to the NRF.  General admission tickets for the Taste are $35; $40 at the door (if available –last year's event was completely sold out by Monday afternoon) which includes a drink of your choice. Additional wine, beer and soda will be available for a small charge.
Tickets can be purchased online at www.neuseriver.org.  Tickets are also available in New Bern at: Mitchell Hardware, Harris Teeter, The Village Butcher, Cravin' Wine (James City), and Nautical Wheelers in Oriental.
2015 Taste sponsors are Coastal Carolina Health Care, P.A., Fisher Fuel Markets, Lynne Davenport/Century 21 Zaytoun Raines, Sherrie and Jim Starr, Comfort Air of New Bern, A dog's Dream, Coastal Beverage, Minges Bottling, Galley Stores/Skipjack Landing Events & Catering and WRNS Country 95.1.
The Neuse Riverkeeper Foundation, with offices in New Bern and Raleigh, is a 501(c)3 charitable organization whose mission is to protect, restore and preserve the Neuse River basin through education, advocacy and enforcement, in order to provide clean water for drinking, recreation and enjoyment to the communities that it serves.
Submitted by: Daphne Sherring, Taste of Coastal Carolina