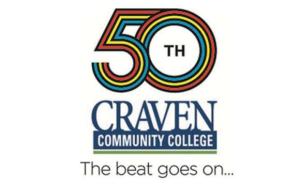 In honor of its 50th anniversary, Craven Community College (CCC) produced a video based on interviews with its four presidents who served over its history. The four presidents since its inception were Dr. Thurman E. Brock (1961-1990), Dr. Lewis S. (Steve) Redd (1990-2002), Dr. Scott Ralls (2002-2008), and Dr. Catherine Chew (2008-present).
"We were very fortunate to have all four of the college's presidents share their personal and poignant histories about Craven through this 50th anniversary video," said Diane Tyndall, chair of business, technology and education programs, and chair of the CCC 50th Anniversary Committee.
YouTube video link: http://youtu.be/A35oAnZS2j0
CCC continues its 50th anniversary celebration with a black history celebration on Friday, February 27th from 6:00-7:30 p.m. at the New Bern campus, and a community day at its Havelock campus on Saturday, March 14, 2015, from 12 – 4 p.m. For more information about these free public events, and other anniversary news, go to www.iamCraven50.com.
Founded in 1965, Craven Community College is part of the North Carolina Community College System. In the 2014-15 academic year, the college celebrates its 50th year as an independent institution. With campuses in New Bern and Havelock-Cherry Point, Craven serves about 3,200 curriculum students and more than 10,000 continuing education students each year. The college offers a wide range of associate degree and certificate programs, as well as college transfer courses, career and occupational offerings, partnerships with four-year universities, specialized workforce training options, developmental studies and basic skills classes. Craven Early College High School programs are available on both campuses. Craven is also home to Public Radio East, one of the few community colleges nationally with this distinction. For more information about the college, visit www.cravencc.edu.
Submitted by: Deborah Kania, Director of Marketing, Communications & Development Liaison