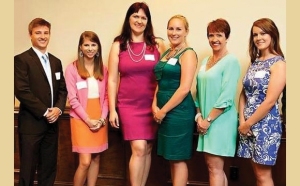 The CarolinaEast Foundation will be awarding five nursing scholarships this year, made possible through the Joseph Hageman Memorial Nursing Scholarship Fund.  These scholarships are available for students pursuing Bachelor of Science degrees in Nursing or an Associate of Applied Science in Nursing.
The scholarship fund is named in honor and memory of Mr. Joe Hageman, an exceptional nurse and employee of the CarolinaEast Health System, who passed away in 2006.
Three scholarships will be awarded in the amount of $5,000 for students pursuing a Bachelor of Science degree in Nursing or the Bachelor of Science program with a major in Nursing.  Two scholarships will also be awarded for those pursuing an Associate of Applied Science degree in Nursing in the amount of $2,000.
These scholarships will be presented formally at the Joseph Hageman Nursing Appreciation Dinner on May 27th.  Scholarship recipients must attend the dinner to receive the scholarship.
Since the first nursing scholarship was given in 2007, a total of $71,000 has been awarded to nursing students.  Last year's scholarship recipients were Brandon Derby, JoAnne Glenn, Kristina Kelley, Jasmine Murphy, Sarah Nichols, and Iya Shchutska.
Applicants must be a resident of Craven, Jones, Pamlico, Carteret or Onslow counties.  Applications will be accepted until the close of business (5pm) on April 10th in the CarolinaEast Foundation office, located at 2007-B Neuse Blvd, across the street from the CarolinaEast Medical Center.
Information and Applications for the Joseph Hageman Memorial Nursing Scholarship may be found online at the CarolinaEast Foundation's website. Please call the Foundation office at 252-633-8247 for any questions.
Submitted by: Amy Willis, CarolinaEast Foundation