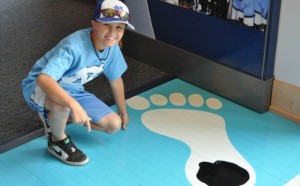 The Together4Tanner Foundation today announced their First Annual Wine Tasting Event on Tuesday, February 3, 2015 from 5:30 – 8:30pm. This event is sponsored and hosted by Captain Ratty's Seafood Restaurant.
The Together4Tanner Foundation's was established after 15-year old Tanner Webb's passing in June 2014 as a memorial to Tanner and to positively impact the local community in his name. The Foundation is currently raising funds to build a memorial baseball park in Craven County for area youth as part of their 5for5 Campaign.
"We are deeply touched by the generosity of our community and their continued support," said Trish Webb, Tanner's mother and president of the Foundation. "We look forward to a great evening, rallying together to give back to our community on behalf of Tanner in a profound way."
Purchase your $35 ticket for the event at www.together4tanner.org or by visiting Peacock's Plume in downtown New Bern. Wine and hors d'oeuvers will be served. Captain Ratty's Seafood Restaurant is located at 202 Middle Street New Bern, NC.
The Together4Tanner Foundation is also looking for $5 donations throughout the state as part of the 5for5 Campaign. If you cannot attend this fundraising event but would like to contribute, please visit www.together4tanner.org or mail in your donation to PO Box 15341, New Bern, NC, 28561.  The Foundation's tax ID number is 47-1398831.
Submitted by: Amber McCracken, Current Communications