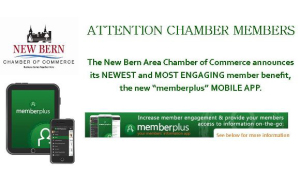 Effectively immediately, the New Bern Area Chamber of Commerce has launched a new mobile app designed to let members interact directly with the chamber and each other – The memberplus App!
The Chamber of Commerce has partnered with ChamberMaster to provide its members a FREE mobile application ("app") that allows members to:
– Receive notifications from the Chamber
– Link to their Member Information Center (MIC)
– View member listings at any time 24/7
– Update their member profile information
– Register, pay and check in for Chamber sponsored events, plus create and promote your own events!
– Interact with other members via the MIC social feed
– Post & view jobs, hot deals and member-to-member specials at any time!
The MemberPlus app is FREE and can now be downloaded on iOS and Android devices. Members can download the app and try a demo account, or log in with their current member credentials and begin using it immediately.
Step 1 – Members can go to iTunes or Google Play to download the app onto their mobile device
Step 2 – Search for "memberplus" to find and download the app
Step 3 – Log in & begin using the app IMMEDIATELY
"The app was designed to increase member engagement and help our members promote their respective business or organization." states Kevin Roberts, President, New Bern Area Chamber of Commerce.
If you are a member of the Chamber and would like to learn more about the new mobile app, please email the Chamber or call 252-637-3111.
Since 1899, the New Bern Area Chamber of Commerce has successfully been serving the business community for over 115 years! Located in beautiful historic downtown New Bern at 316 S. Front Street, the New Bern Area Chamber of Commerce serves to positively cultivate economic stability for the local community by partnering with local businesses to promote and engage its members so they are positioned not only to succeed, but thrive. For information about the benefits of membership, please contact the chamber at 252-637-3111.
Submitted by: Millissa True on behalf of the New Bern Area Chamber of Commerce