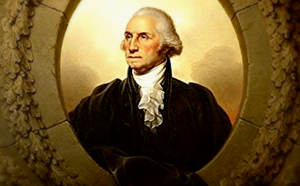 To honor our first President's visit to New Bern, NC, in 1791,the New Bern Preservation Foundation and Tryon Palace have joined together to recreate the events of George Washington's  1791 Southern Tour.
The joint undertaking of the New Bern Preservation Foundation and Tryon Palace will start in the afternoon of April 24, 2015 by greeting President Washington and his entourage at New Bern's Historic Train Depot followed by a welcome parade to Union Point Park.  A walking tour of houses from Washington's time will follow.  A celebration at Union Point Park will include a 15 gun salute to the President, re-enactment of Asa Spelman's meeting with the President and 18th century songs, dancing and merriment.
Dinner will be celebrated in the Mt. Vernon style with President Washington at the John Wright Stanly House (the same house the President had dinner in 1791). A Candlelight tour, cocktails and dining in the 18th century manner will complete the days' activities.
On the morning of April 25, 2015 a 10 mile, 5k and Fun Run will begin at Tryon Palace and end at the North Carolina History Center.  A full parade will follow with a review off the troops, marching bands, community groups and dogs of all breeds. The Speakers lunch will be held at the Chelsea restaurant featuring Warren Bingham author of Washington's Southern Tour of 1791. In the afternoon, children's games will be featured on Craven Street. In the evening the President's Ball will honor President Washington with cocktails, dessert, music, dancing and toasts at Tryon Palace.
On April 26, 2015 a brunch will be held under the Treaty Tree on the Neuse River.  At 1:00 PM Church bells will ring throughout New Bern in celebration of President Washington's visit. The President will then lead a procession down East Front Street and the President will board the schooner Ada Mae.  The schooner will be escorted by New Bern water craft as he bids farewell to the city. A stirring flag ceremony by the Sojourners of 1776 will close the festivities.
President Washington then departs New Bern.
Contact Tryon Palace at info@tryonpalace.org or call 252-639-3500 and New Bern Preservation Foundation at info@newbernpf.org or call 252-633-6448. For more details of Washington's 1791 Southern Tour go to www.washingtonssoutherntour.org.
Submitted by: Rick Lang on behalf of the New Bern Preservation Foundation