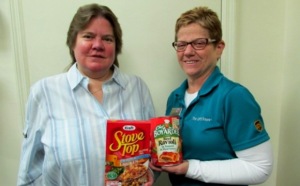 With the Tryon Civitan Club's food drive for Salvation Army approaching fast, Laura Johnson and I met with Pat Drake, Publicity Chair to find out more.
Listen to the radio interview aired on New Bern News Talk Radio WNOS 97.1FM and 1450AM. You can also hear the interview online on NBN's Libsyn page:
For the month of February, The Tryon Civitan Club, in conjunction with The UPS Store, will be sponsoring their Sixth Annual Non-Perishable Food Drive to benefit the Salvation Army. Pat Drake said, "The Salvation Army is in need of things that are high in protein like: canned meat, canned tuna fish, macaroni and cheese, beef-a-roni, ravioli and spaghettios. They've indicated that they have enough vegetables and fruit; they're looking for things that can be a basic for a meal and they can build around that."
Anyone wishing to donate any of these items can drop them off at The UPS Store, located on South Glenburnie Road (across the street from the Post Office), Monday through Friday 8am to 6 pm and Saturday 8am to 4pm.
As always, The Tryon Civitan Club thanks everyone for their continued support of the projects they have during the year in support of our community
If you have any questions about this project or need any additional information, please contact the Tryon Civitans President, Kathy Whitfield, at 229-5512 or visit the Tryon Civitan's website  and Facebook page.
Special thanks to Pat for sharing this important information with us!
Tell us what you think by commenting below or sending us an email. Visit New Bern Now's Facebook page or sign up for the latest updates by submitting your email address in the right margin on New Bern Now's website.
Wendy Card