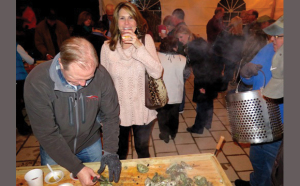 Friday, January 30, 2015 – 5:30pm to 8:30pm
WinterFeast is coming … you bring the appetite and we'll bring the feast.
Come out of your shell as WinterFeast returns to the North Carolina History Center with tasty brews and plenty of food. Enjoy a delicious offering of North Carolina oysters, shrimp and grits, soups, Eastern North Carolina barbecue, and more.
Remember to buy your ticket before Jan. 1 to receive the discounted rate and to avoid paying sales tax. Beginning Jan. 1, tickets will increase to $40 and require an additional sales tax. That makes WinterFeast tickets the perfect stocking stuffer!
This indoor/outdoor event includes a cash bar and will be held at the North Carolina History Center (529 South Front St., New Bern, NC), where you can dance along with the DJ, play a game of cornhole, or simply enjoy the view. There really is no better way to beat the winter blues than this tasty feast on the waterfront with your friends.
Location:
North Carolina History Center, Bate Commons
Event Price:
$35 per person before Jan. 1
$40 + tax beginning Jan. 1
For more information, please call 252-639-3500 or send an email to info@tryonpalace.org.
Submitted by: Craig Ramey, Marketing and Communications, Manager, Tryon Palace