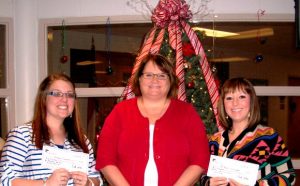 Bridgeton Elementary School teachers Misty Persilver and Sara Green were each recently awarded a Weyerhaeuser Mini Grant of $100 each during the Fall Cycle for their grants.
Ms. Persilver's grant is "Count the Lego Brick Road," and Ms. Green's grant is "Explore and Learn in Science."  Pictured are Ms. Persilver, Bridgeton Elementary Principal Melisa Thompson, and Ms. Green.
For over nine years, Partners In Education, together with Weyerhaeuser, have been providing assistance to fund hands-on activities in math and science in Craven County Schools' classrooms. This program has grown over the years and allows teachers the opportunity to purchase materials for activities in the classroom without having to spend money out of their own pocket.
For information on Partners In Education, contact Darlene Brown at 252-514-6321 or visit the PIE website at www.CravenPartners.com.
Submitted by: Darlene J. Brown, Executive Director, Partners In Education